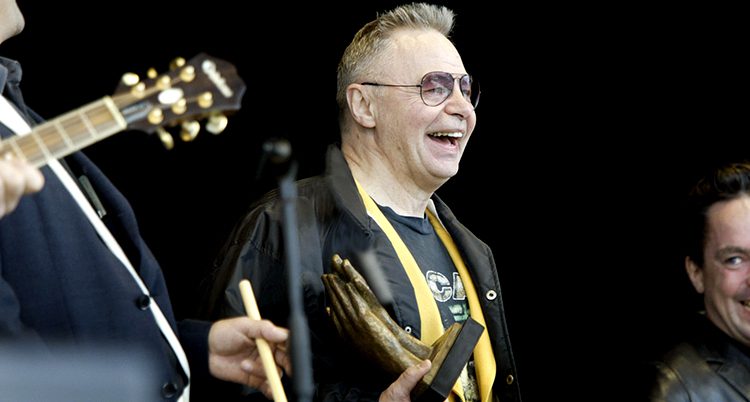 Jerry Williams med priset Lisebergsapplåden som han tilldelades 2004 på Liseberg i Göteborg.
Den 25 mars 2018 lämnade en av Sveriges största artister oss i en ålder av 75 år. Sven Erik Fernström, alias Jerry Williams, har under sina dryga 55 artistår spelat med en mängd olika storheter inom musikens underbara värld.
1963, då The Beatles genomförde sin första utlandsturné överhuvudtaget, vilken gick till Sverige, var Jerry Williams en av artisterna som uppträdde tillsammans med The Beatles.
Tidningsannons för Pop Festival-63 i Kungliga Tennishallen i Stockholm den 26 oktober 1963 med artister som The Beatles och Jerry Williams & The Violents.
Så här kunder entrébiljetten se ut för den som skulle gå på den senare konserten (kl. 20.00) av de två som gavs i Kungliga Tennishallen i Stockholm den 26 oktober 1963.
Den 26 oktober i Kungliga Tennishallen i Stockholm blev den första spelningen där Jerry Williams & The Violents var förband till The Beatles. I annonsen ovan hade Jerry fått epitet Europas Twist-Kung. Detta för att hävda sig mot det stora dragplåstret Joey Dee, som var Amerikas Twist-Kung!
Dagen efter, den 27 oktober, var man ett av förbanden på Cirkus i Göteborg och den 29 oktober var det dags igen, denna gång i Sporthallen i Eskilstuna.
Omslaget till LP-albumet 'Jerry Williams & the Violents at the Star-Club 1964' på Sonet Records.
Men redan 1962 kom Jerry Williams i kontakt med The Beatles. Då spelade Jerry tillsammans med sin kompgrupp The Violents på Star-Club i Hamburg, samtidigt som The Beatles var där.