Det här får ni inte missa! Gäller alla som varit i Liverpool och de som ännu inte tagit sig dit! Paul är på ett strålande humör när han guidar och sjunger sig runt Liverpool tillsammans med tv-underhållaren James Cordon. Programmet The Late Late Show sändes den 20 juni 2018.
I videon nedan besöker de flera kända Beatlesställen i staden och Paul berättar mycket om sin tid i The Beatles. Bl.a. om vad som inspirerade honom att skriva låten Let It Be. och hur han skrev sin första låt när han var 14 år ung. De besöker också Paul McCartneys föräldrahem, vilket Paul inte hade besökt på 50 år! Givetvis besöker det Penny Lane också.
Efter den guidade turen som ägde rum den 9 juni var det dags för Sir Paul att spela Beatles- och Wingslåtar inför en specialinbjuden pubpublik på – The Liverpool Philharmonic Pub. Det får ni också se i ovanstående klipp!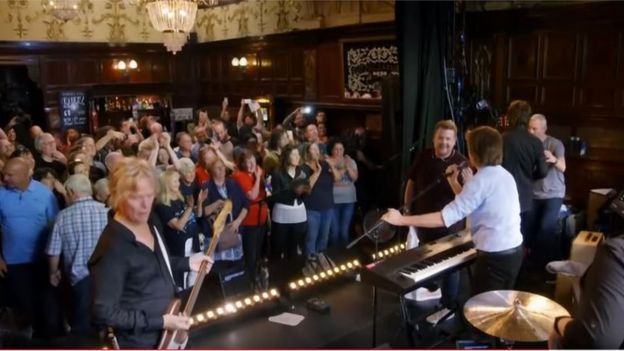 Ett foto från Pauls spelning på the Liverpool Philharmonic Pub i Liverpool den 9 juni 2018