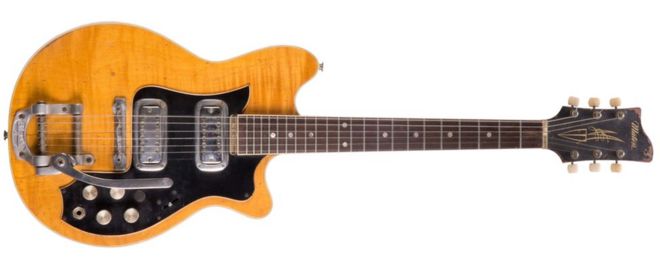 Gitarren såldes i början av augusti 2018 för £347,200, vilket motsvarar lite drygt 4 miljoner kronor, hos auktionsfirman Gardine Houlgate i Wiltshire, England. Köparen var en samlare från andra sidan Atlanten.
Luke Hobbs från auktionsfirman säger att försäljningen var fantastisk! Gitarren, som är tillverkad i Australien, användes av George Harrison efter det att han hade lånat den från en musikaffär i Manchester i väntan på att hans egen Gretsch-gitarr skulle bli färdigreparerad.
Det lär t.o.m finnas fotografier som visar att George Harrison använde gitarren på flera livespelningar. Den mest spektakulära spelningen med denna gitarr blev den sista spelningen The Beatles gjorde på The Cavern den 3 augusti 1963. Därefter slog Beatlemania till och Ringo Starr kom med i bandet samma månad. Resten är som bekant, historia.