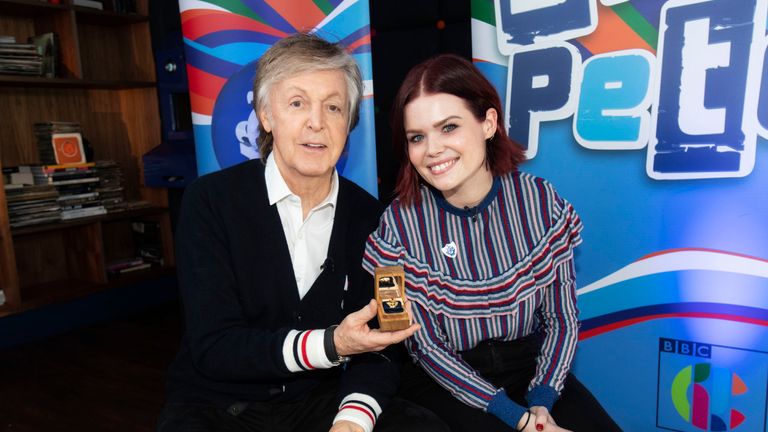 Paul McCartney med 'Gold Blue Peter Badge'-utmärkelsen tillsammans med Lindsey Russell, som presenterade priset för Paul.
När Lindsey Russell frågade Paul McCartney vilket råd han skulle ge till unga människor som aspirerar på att bli artister och låtskrivare, svarade Paul:
The only advice really is to do it… a lot.  I have a song writing class and the first thing I say to them is 'look I don't really know how to do this' and at first they kind of look at me, but when you think about it there is no formula. I know how to write one of my songs but I can't say 'you do it that way', because it's a very personal thing. So the advice really is to just do whatever it is you're doing… a lot!
Paul McCartney har sålt över 700 miljoner album över hela världen som soloartist, tillsammans med sitt band Wings och som medlem i gruppen The Beatles.
Men det var först när han erfor att han skulle tilldelas det prestigefyllda priset Gold Blue Peter Badge, som en upprymd Paul McCartney uttryckte: That is beautiful, that's a great badge. I will wear it with great pride. Yes! I made it!
Paul tilldelades det eftertraktade priset precis innan han skulle framträda på den utsålda Q2-arenan i London under sin Freshen Up-turné den 16 december 2018. Motiveringen var att han har inspirerat generationer av människor med sin musik och så här ser priset ut:
Blue Peter badge är ett pris som ges ut av BBC children's television programme till de som uppträder i programmet eller för att ha utfört något extraordinärt. Priset ges till barn mellan 6 och 15 års ålder eller till vuxna som har gästat programmet.
The Gold Blue Peter Badge,  som Paul McCartney nu har tilldelats, är programmets finaste pris. Varje år delas det bara ut en handfull sådana priser till individer som visat stort kunnande inom sitt område och som verkat som förebild och som har uppmuntrat och motiverat barn under flera generationer.
Bäraren av priset erhåller fri entré till många brittiska attraktioner, speciellt museer och utställningar som presenteras i tv-programmet Blue Peter.
Redaktören för Blue Peter, Ewan Vinnicombe, sa inte utan stolhet följande:
Sir Paul McCartney has inspired generations of Blue Peter viewers to love music and be creative – a core value of Blue Peter. I'm thrilled that we have been able to honour the legend that is Sir Paul with our highest accolade – a Gold badge.
Bland andra storheter som erhållit detta pris, kan till exempel nämnas The Queen  (Drottning Elisabeth II), Hertingen och Hertiginnan av Cambridge. Sir David Attenborough. JK Rowling, Steven Spielberg, David Beckham, Ed Sheeran och Madonna.
Sir Peter Jackson, som ska göra en ny Let It Be-film, fick detta pris förra året.
Paul kommer att få sitt pris i tv-programmet Blue Peter, som sänds den 7 februari 2019 på CBBC.