Avsnitt 5 i en miniserie om 5 avsnitt.
John Lennon verkar mer road av cricket än av fotboll. Här under en inspelningspaus av filmen 'How I Won The War' i september 1966.
Liverpool F.C. Everton F.C.
John Lennon var aldrig intresserad av fotboll eller annan sport, enligt Beatleshistorikern Ray O'Brien. Dock var John Lennons far, Alfred, en Liverpoolsupporter. Och inte nog med det, det var han som föreslog att de skulle ha med den enda fotbollsspelaren som finns med på omslaget till albumet Sgt. Pepper's Lonely Hearts Club Band – Albert Stubbins, som spelade i Liverpool F.C. under åren 1946-1953.
Tilläggas kan att Liverpoolspelaren under åren 1936-1941 – Sir Matt Busby – finns med bland de namn som ingår i texten på låten Dig It, en av några få låtar som är skrivna av samtliga fyra beatlar.George Harrison is considered to be the Beatle with the least interest in the sport, or was at least the member the most careful to dismiss any allegiances to either team in Liverpool by stating: "There are three teams in Liverpool, and I prefer the other one."
Då kan det avslutningsvis vara på sin plats att presentera den mest uppenbara kopplingen mellan samtliga fyra beatlar och fotboll.
Det handlar om ett telegram som de fyra beatlarna skickade till Liverpools manager Bill Shankly 1965, där de önskade Liverpool F.C. lycka till inför den förestående FA-cupfinalen mot Leeds United den 1 maj på Wembley Stadium i London inför 100 000 åskådare. Liverpool vann med 2-1!
Telegrammet finns att beskåda i the Shankly Hotel i Liverpool, och lyder som följer:
Best of luck lads, we'll be watching on the tele. John, Paul, George and Ringo.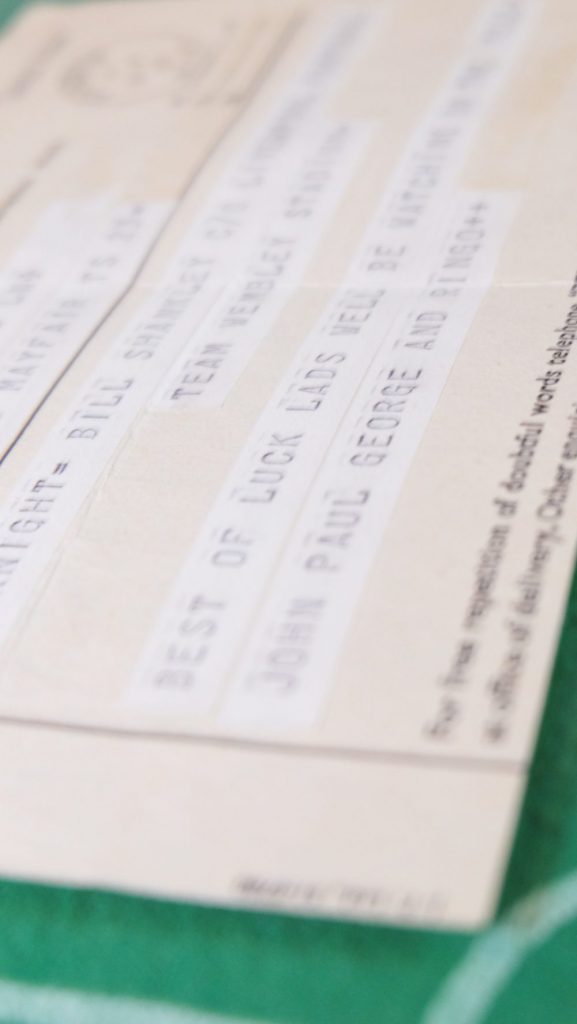 Saliga Liverpoolspelare efter att ha spelat hem den första FA-Cupfinalen för Liverpool F.C. den 1 maj 1965 på Wembley Stadium i London.