The Kittles – Sgt. Mouse's Lonely Cats Club Band

Nedan ser vi grundskissen med The Beatles Sgt. Pepper-omslag innan alla figurerna blev kattifierade! Tecknaren heter Karuski. Ovanstående färdiga Kittles presenterades den 22 mars 2015.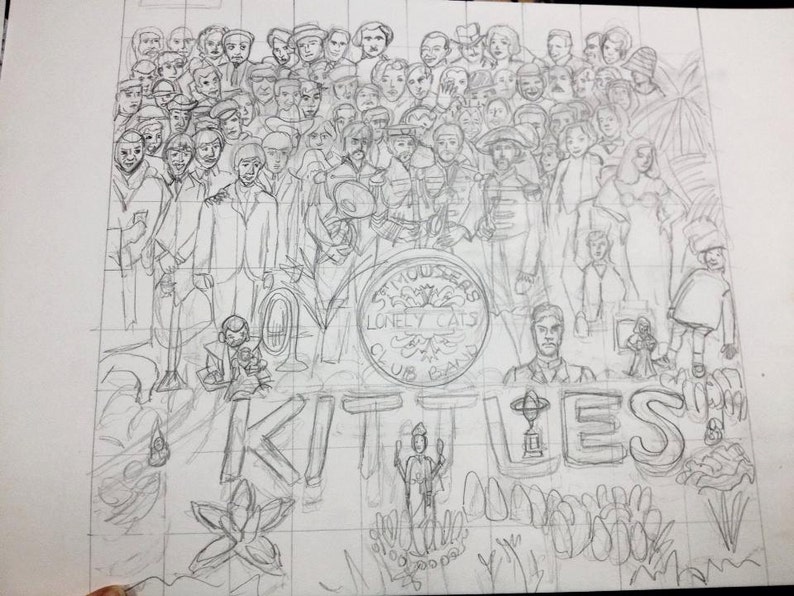 _____________________________________________
Fab – Sgt. Pepper's Only Dartboard Band

Så här låter deras version av Sgt. Pepper's Lonely Hearts Club Band och Twist And Shout.
Sgt Pepper's Only Dart Board Band består av fem medlemmar – The Fab Four plus Sgt. Pepper på klaviatur. De är kända för sina intensiva liveshower och framför de mest komplexa Beatleslåtarna live utan hjälp av förinspelade bakgrunder.

Albumet Fab med gruppen Sgt. Pepper's Only Dart Board Band anses vara en av Englands bästa tributeband. Bandet har spelat på The Cavern och Glastonbury Festival. De har turnerat runt UK i mer än 15 år. Dessutom har de uppträtt på The Alabama Shakspeare Festival i Montgomery, Alabama, USA, där många av albumets låtar framfördes.
Låtarna på albumet, som släpptes 2010, är inte covers av de 13 låtarna på originalalbumet utan följande 21 spår:
Sgt Pepper's Lonely Hearts Club Band; With a Little Help From My Friends; Penny Lane; A Day in the Life; Day Tripper; Paperback Writer; Taxman; Oh! Darling; Here Comes the Sun; While My Guitar Gently Weeps; A Hard Day's Night; Help!; All My Loving; She Loves You; Back in the USSR; Mean Mr. Mustard; Polythene Pam; She Came in Through the Bathroom Window; Golden Slumbers; Carry that Weight; The End.