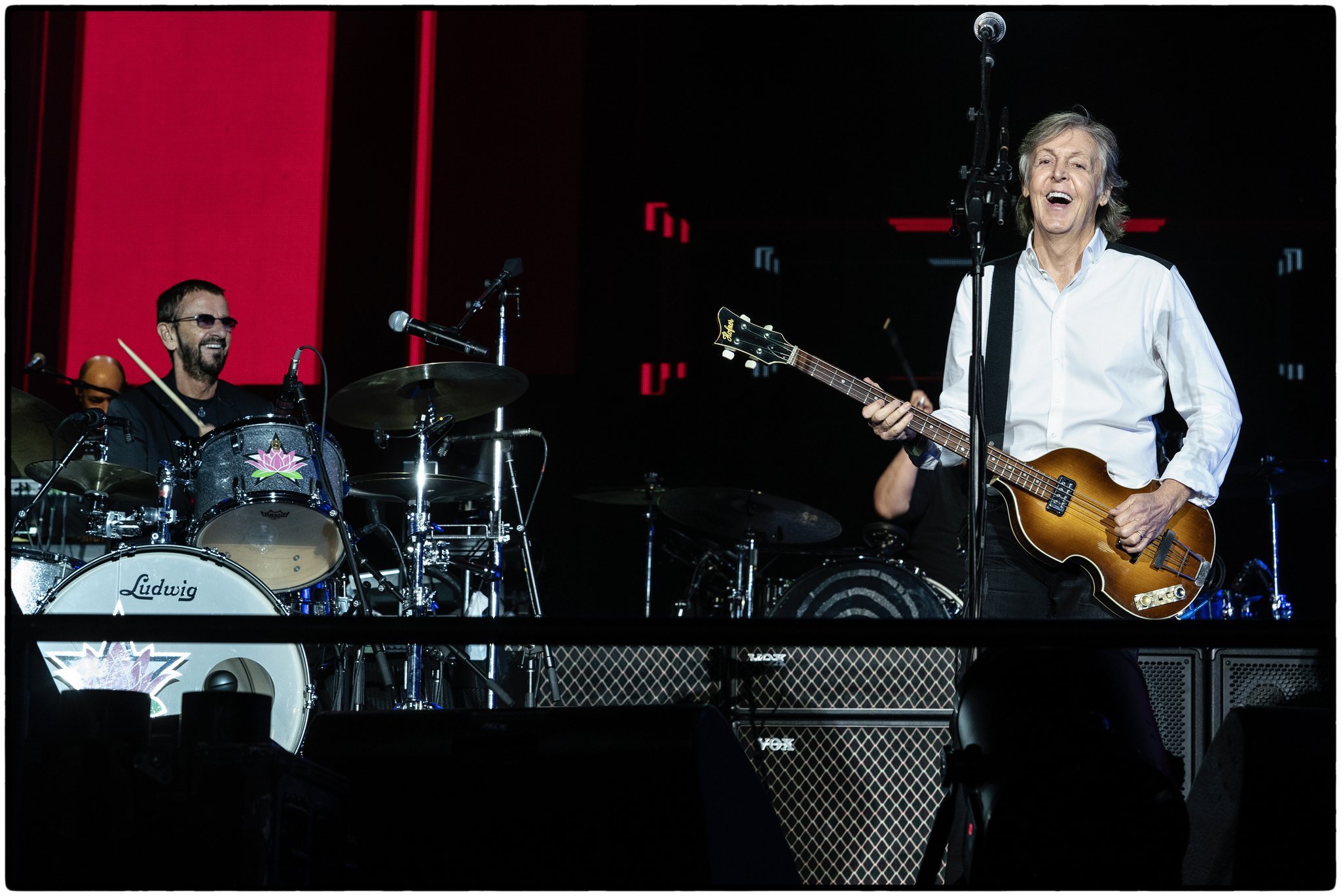 I samband med Paul McCartneys avslutningskonsert lördagen den 13 juli 2019 på Dodgers Stadium i Los Angeles på Freshen Up-turnén bjöd Paul på två oannonserade gäster.
Den första gästen som kom in på scenen när extranumren började spelas var ingen mindre än Ringo Starr!
Mot slutet av konserten sa Paul till publiken: It's a surprise for us. It's a surprise for you. It's a surprise for everyone. Ladies and Gentlemen… the one and only… Ringo Starr! Publiken mer eller mindre exploderade av lycka.
Paul McCartney och Ringo Starr förenades därmed ännu en gång på scenen.
Ringo Starr kom in på scenen och ropade: Peace and Love everybody. Paul svarade med: I love you, man, under det att Ringo satte sig bakom trumsetet.
Låtar som de båda spelade tillsammans denna gång under konsertens extranummer var Sgt. Pepper's Lonely Heart's Club Band (Reprise) och Helter Skelter.
Se framförande av Sgt. Pepper's Lonely Hearts Club Band (Reprise) nedan:
Senast Paul och Ringo spelade tillsammans var när Paul överraskade publiken med att presentera Ringo på 02 Arena i London den 16 december 2018. Då spelade de Get Back tillsammans.
Allt eftersom extranumren plockades fram på Dodgers Stadium framförde Paul ett flertal låtar från baksidan på albumet Abbey Road såsom Golden Slumbers och Carry That Weight. Med på scen var överraskningsgäst nummer 2 – Joe Walsh, Ringos svåger.
Hur det lät kan du höra nedan!
Avslutningskonserten bjöd på en tre timmar långt musikaliskt äventyr innehållande 38 låtar.
Så här såg spellistan ut på denna sista konsert på Freshen Up-turnén för den här gången:
A Hard Day's Night
Junior's Farm
Can't Buy Me Love
Letting Go
Who Cares
Got to Get You Into My Life
Come On to Me
Let Me Roll It
I've Got a Feeling
Let 'Em In
My Valentine
Nineteen Hundred and Eighty-Five
Maybe I'm Amazed
I've Just Seen a Face
In Spite of All the Danger
From Me to You
Dance Tonight
Love Me Do
Blackbird
Here Today
Queenie Eye
Lady Madonna
Eleanor Rigby
Fuh You
Being for the Benefit of Mr. Kite!
Something
Ob-La-Di, Ob-La-Da
Band on the Run
Back in the U.S.S.R.
Let It Be
Live and Let Die
Hey Jude
Extranummer
Birthday
Sgt. Pepper's Lonely Hearts Club Band (Reprise)
Helter Skelter
Golden Slumbers
Carry That Weight
The End
Här nedan kan ni se ett utdrag ur konserten – såväl början som avslutningen med Ringo Starr och Joe Walsh.