Anthem Publishing har nu i augusti 2019 börjat publicera en serie i fyra delar med The Beatles som tema. Den första delen har nyligen kommit ut och den heter följaktligen:

The Beatles Years | Volume 1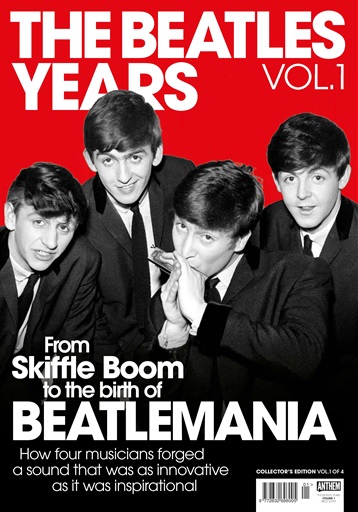 Denna den första volymen har fått undertiteln From Skiffle Boom To The Birth Of Beatlemania och handlar om The Beatles första år med skifflebesättning – The Quarrymen – fram till deras hårda men lärorika dagar i Hamburg, Västtyskland och den hysteriska tillkomsten av Beatlemania som briserade mot slutet av 1963. Vid den här tiden, så blev John, Paul, George och Ringo namnen på allas läppar. Inom några veckor efter årsskiftet kom de att erövra USA med storm.
Vol. 1 innehåller hela 130 sidor och ett drygt 80-tal fotografier och är indelad i följande 15 intressanta kapitel:
The Quarrymen
The Hamburg Years
The Cavern
Tony Sheridan
Pete Best
Brian Epstein
The Decca Audition
The Image
The Logo
The Guitars
Please Please Me
Beatlemania
The Royal Variety Performance
Early Classics
With The Beatles.
De följande tre volymerna, som kommer att publiceras under innevarande år, har nedanstående teman:
Vol. 2 – 1964-1966: Movies, Mania And M.B.E.s
Vol. 3 – 1967-1968: From Sgt. Pepper To Yellow Submarine
Vol. 4 – 1969-1970: The End Of An Era