Tidningen Uncut har i sin serie The Ultimate Music Guide givit ut fyra tidningar med The Beatles, d.v.s. ett nummer med respektive beatle i huvudrollen. Den del som har uppmärksammats nu i augusti 2019 är den som handlar om Ringo Starr.
Som synes nedan kan man förledas tro att det har kommit två olika volymer med Ringo Starr (typ vol. 1 och vol. 2), MEN. . .
redan från början vill jag påpeka att innehållet i dessa båda tidningar är identiskt. Det enda som skiljer tidningarna åt är omslaget. Om ni tittar noga på respektive omslag nedan, ser ni att alla rubriker som finns med på den röda utgåvan också finns med på den blå (och vice versa förstås!), även om de är placerade på lite olika ställen på sidan.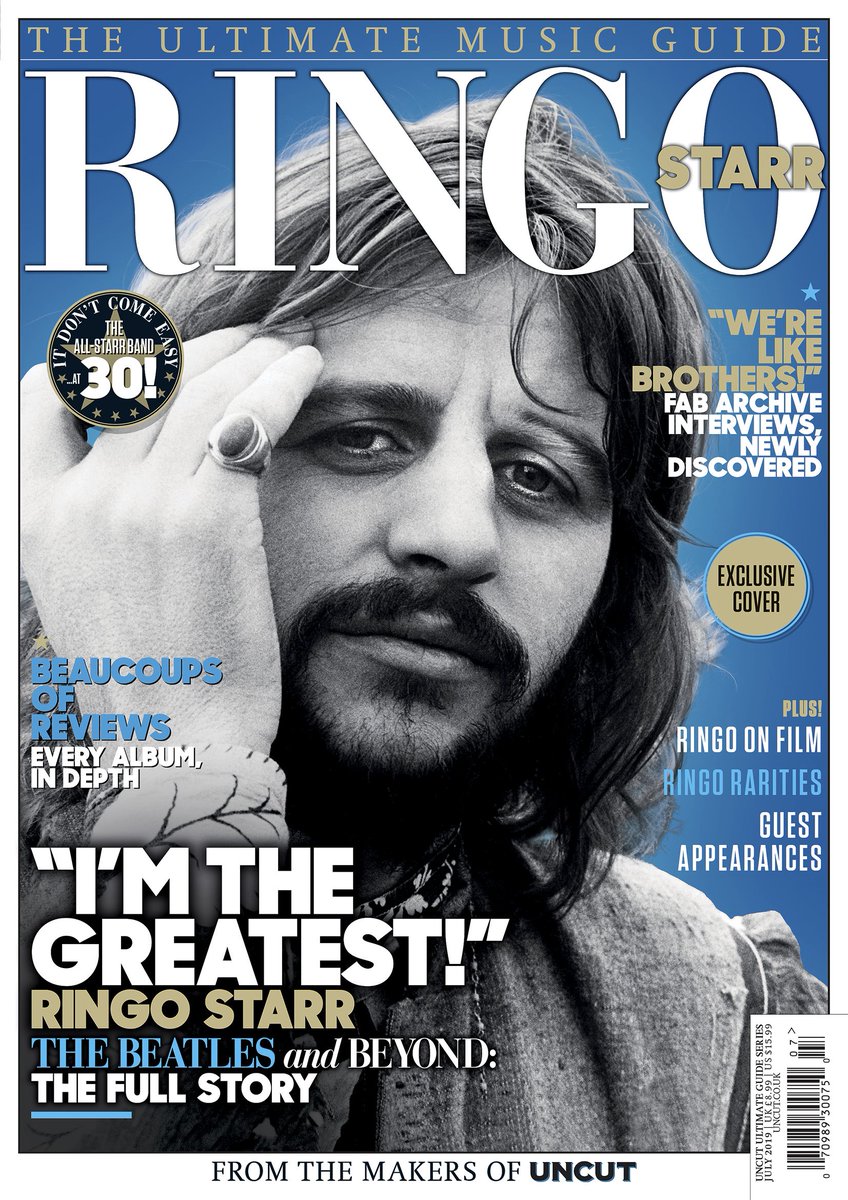 Denna utgåva på 122 sidor och ett 90-tal fotografier med Ringo Starr som huvudperson är indelad i följande kapitel:
THE BEATLES 1963-1965
'He's the best drummer we've ever had'
'I hate the idea of being the central figure again'
THE BEATLES 1966-1970
'We keep topping our last LP'
'I still get a kick out of the charts!'
'They think we are still little moptops and we are not'
SENTIMENAL JOURNEY
BEAUCOUPS OF BLUES
RINGO ON FILM & TV
'I don't wanna be a politician. I am an entertainer'
RINGO
GOOD NIGHT VIENNA
'You know me I'm so nice'
RINGO'S ROTOGAVURE
RINGO THE 4TH
BAD BOY
RINGO IN THE 1980s
'I was completely blown away'
RINGO IN THE 1990s
'The honour is in the trying'
LIVE ALBUMS
COMPILATIONS
RINGO IN THE 2000s
RINGO IN THE 2010s
'We were rocking'
MISCELLANY
STOP ME . . .
Lite information om de tidigare utgivna specialnumren från UNCUT om George Harrison, Paul McCartney och John Lennon följer i kommande artiklar under augusti 2019 här på hemsidan.