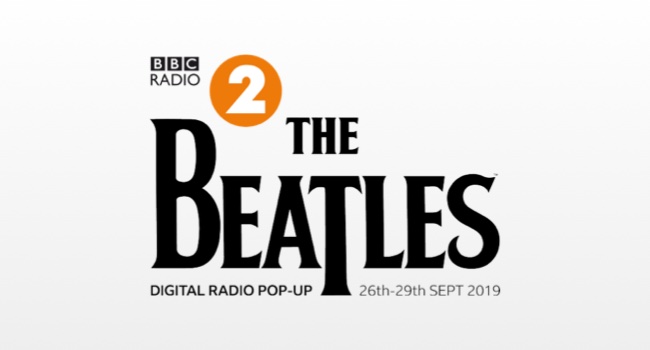 BBC Radio 2 kommer att fira 50-årsjubileet av albumet Abbey Road med en fyradagars pop-up DAB-radiostation kallad Radio 2 Beatles.
Bland programmakarna hittar vi Gary Barlow, John Bishop, Martin Freeman, Guy Garvey, Dave Grohl, Giles Martin, Cerys Matthews, Paul Merton along side Zoe Ball, Sara Cox and Jo Whiley.
Ni noterar väl att Giles Martin är med bland namnen ovan?!
DAB-radiostationen Radio 2 Beatles kommer att sända från och med torsdagen den 26 september till och med söndagen den 29 september 2019 från Abbey Road Studios.
Radiostationen kommer att hedra och hylla John, Paul, George och Ringo, dels som en grupp (The Beatles!), dels som individuella artister och låtskrivare. Alla livesändningar sänds direkt från Abbey Road Studios i London tillsammans med uppkopplingar från Radio 2 och BBC Sounds. Det kommer även sändas förinspelat material i form av klassiska Beatlesinslag från BBC:s arkiv.
Lewis Carnie, basen för Radio 2, säger:
The Beatles are woven into the fabric of UK culture. They inspired and continue to inspire artists of all generations and created some of the world's most loved music. As their seminal album Abbey Road is 50 years old, I am delighted that Radio 2 is celebrating the Fab Four with a four day pop up DAB radio station.et
Höjdpunkter från programmet inkluderar We Write The Songs där Gary Barlow intervjuar Paul McCartney om musik och där Paul berättar om att The Beatles började skriva själva tack vare att andra grupper hade börjat ta efter deras egen stil. Paul berättar också om hur han har lyckats hålla sig på toppen i musikbranschen i över 60 år!
I serien My Beatles berättar Dave Grohl, Jack Savoretti och Tom Odell om hur the Fab Fours musik har påverkat deras eget musicerande.