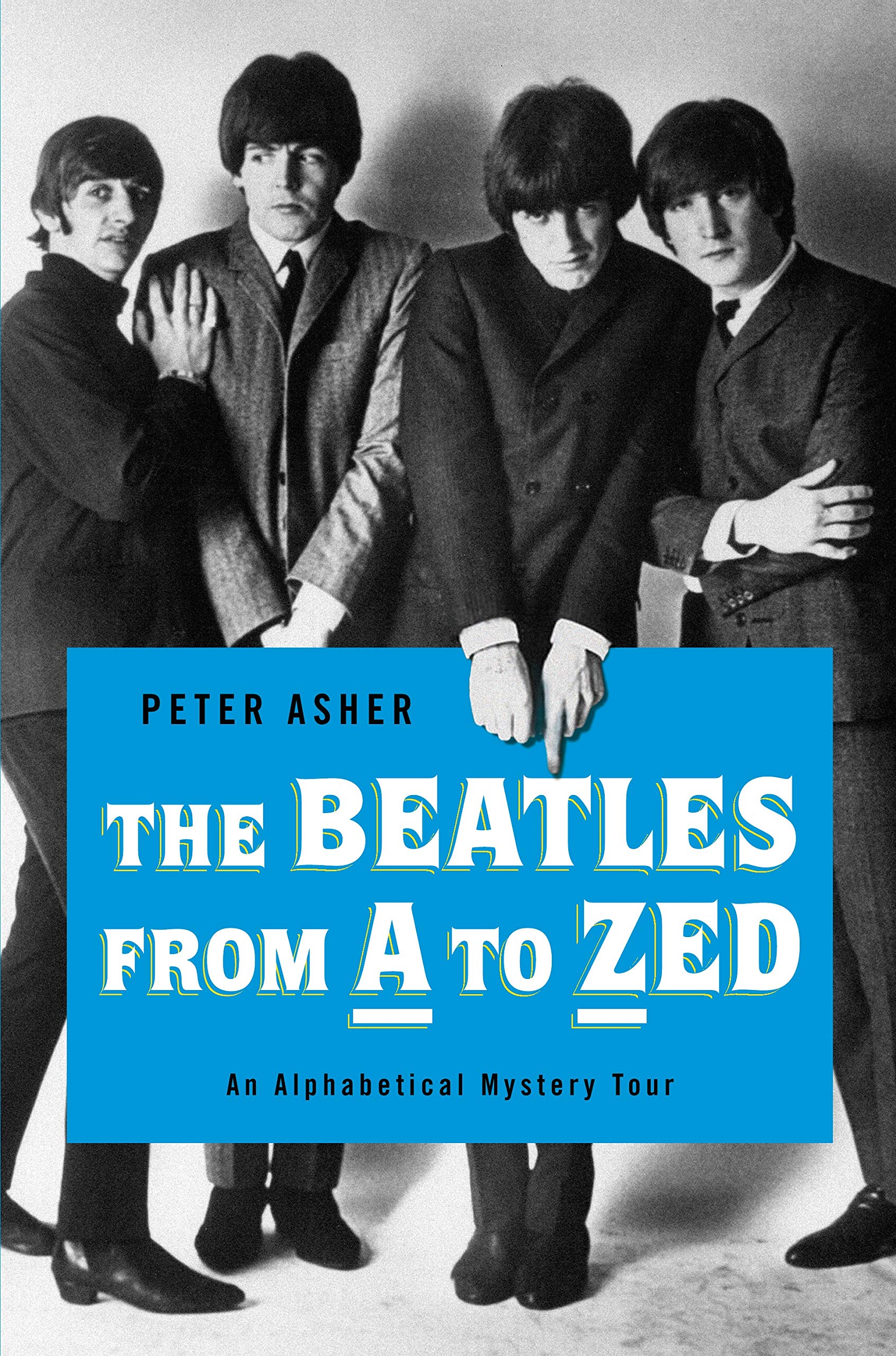 Musikveteranen hävdar att den Brittiska invasionen i USA var till 90 % The Beatles och 10 % övriga band.
Peter Asher var den ena halvan av den brittiska duon som kallade sig Peter and Gordon – och som bestod av Peter Asher och Gordon Waller. Duon hade flera stora hits i mitten av 1960-talet med ett flertal låtar.
Bland annat med låtarna ovan A World Without Love, Nobody I Know och I Don't Want To See You Again. Alla skrivna av Paul McCartney (men givetvis krediterade Lennon-McCartney).
För att se om en låt kunde slå, även om det inte stod Lennon-McCartney på skivetiketten, skrev Paul McCartney även låten Woman till Peter & Gordon, men under pseudonymen Bernard Webb (på vissa av Capitols pressningar står det inte Bernard Webb utan A. Smith). På den här tiden var Paul ihop med Peters syster Jane Asher.
Peter Asher har startat en mycket succéartad Beatlesshow med titeln From Me To You på en satellitkanal i radio och har nyligen släppt en bok med titeln The Beatles From A to Zed: An Alphabetical Mystery Tour vilken är baserad på en idé som han hade när han startade radioshowen. Boken var från början tänkt att heta From Me To You, men nu blev det i stället The Beatles From A to Zed: An Alphabetical Mystery Tour, som publicerades den 26 oktober 2019.. Nu kanske man tror att boken enbart är uppbyggd på Beatleslåtar i bokstavsordning, men det är den inte.
Så här säger Peter själv om boken: I use that letter not just for song titles but for people and instruments and styles and places and all kinds of stuff.
Första gången han mötte The Beatles var det på en pub. Peter: I was excited, they were already a big deal or becoming one, they were being much talked about and the whole 'Beatlemania' was just getting fired up. Once the Beatles hit America, it opened the door for other British bands like Peter and Gordon.
Paul berättar vidare vad som hände när The Beatles slog igenom i USA: What the Beatles did when America finally realized how good they were and took it seriously it changed everything because suddenly this music which was all based on our love for American music we meant it as a homage, we were all one giant tribute band.
Han säger sig inte ha hört något från Ringo eller Paul om boken, men han vet att de lyssnar på hans radioshow.
På frågan om beatlarna skulle ha rättat till någon av hans beatleshistorier eller föreslagit några andra historier säger Peter:
Actually not yet but I keep expecting that especially now that it's a book which is actually committing it to the printed page.
Innan Peter startade sin långa karriär inom musikbranschen som skivproducent, musiker med mera, var han med om den brittiska invasionen genom gruppen Peter And Gordon. Under mitten av 1960-talet bodde Paul McCartney en tid hemma hos familjen Asher. Främst för att Peters syster Jane bodde där, som han dejtade!
I samband med att CBS förberedde sig för att fira 50-årsjubileumet av The Beatles debut i The Ed Sullivan Show med programmet The Night That Changed America, en tv-special som sändes den 9 februari 2014 pratade Asher med Christopher Morris från tidningen Variety om hans minnen från de tidiga dagarna av Beatlemani.
Variety: You first heard Paul and John perform 'I Want to Hold Your Hand' in your family's house?
Peter Asher: Paul was living in our house off and on when he was going with my sister. In the basement there was a small music room that my mother used to give private oboe lessons. Paul used to use the piano – it was a small upright piano – and there was a music stand and a sofa, that was it. Shortly after Paul had moved in, John came over, and Paul stuck his head up the stairs and asked me if I wanted to come hear the song that they'd written, and I went down and sat on the little sofa. And they sat side by side on the piano bench and played "I Want to Hold Your Hand" for the first time to anybody anywhere.
Variety: Were you able to observe how the Beatles felt about the prospect of the band succeeding in the U.S.?
Asher: What I do remember very specifically was the moment when they got the news that 'I Want to Hold Your Hand' had gone to No. 1. That was extraordinary. It's impossible to imagine now how distant, unachievable and magical America seemed to us…The idea of being successful there was beyond any of our wildest dreams. It still didn't forecast the degree of insanity that would happen. Up until then the only British hits (in the U.S.) were Lonnie Donegan and Rolf Harris, and Frank Ifield's 'Remember You', or Acker Bilk's 'Stranger on the Shore'. They were one-off hit records. We didn't see Americans taking to British stars. So we never expected it.
Variety: The first song Paul gave to Peter & Gordon, 'A World Without Love' has an unbelievably clever melody.
Asher: It's a great song. And that was just sitting around. It was an unfinished, orphan song…The reason the Beatles didn't do it was that John thought the first line was laughable. "Please lock me away…" When we got a record deal a little later, I think we were being seen by EMI as folkies. When we auditioned, we were singing '500 Miles' and an Everly Brothers tune. I think they thought we were the British answer to the Kingston Trio, or to Peter, Paul & Mary without Mary, as it were. But they did say, "Do you know of any other tunes that you'd like to try out on your first session?" That's when we went back to Paul and said, "Look, if that song is still sitting around, we'd love to record it." He said, "Fine."
Variety: You and your vocal partner Gordon Waller were among the greatest beneficiaries of Beatlemania.
Asher: Yes, we were. I believe 'A World Without Love' was the first British No. 1 (in America) after the Beatles. It became this whole British Invasion, which of course we were thrilled to be part of. But of course in essence it was 90% Beatles and 10% everybody else put together, in that early stage. We were sort of substitutes. I remember being in an elevator in a hotel with a family, and this clean-cut all-American kid turned to me and said, "Are you a Beatle?" I said, "No." He said, "But you're a Beatle, right? You're English." It was almost like, "Are you part of that tribe?"
Variety: Did you have a sense that there would be such permanence to the music?
Asher: No. I don't think any of us did. I'm not sure we really had time to think about it. I think tacitly everyone shared the assumption that the media undoubtedly shared, which was, "This all will be over in a couple of years." One of the questions the Beatles got asked, and therefore we did, too, was, "What are you going to do when this is over?" In their case, they intended to continue as songwriters…It was almost as if that was the (career) that could go on – "after all the fuss about your little band goes away, dear boy." I certainly had no clue that I'd still be in the music business 50 years later, that's for sure.
Variety: So things were moving so quickly that you didn't have a chance to think about what was going on?
Asher: That's correct. But it began a process of people of the older generation taking young people a bit more seriously. There was previously a sense of, "Oh, they're just young kids," and by its very nature it couldn't be any good. It couldn't be important, because important stuff was done by proper grownups. That all changed.
Nedan kan ni lyssna på hur Peter beskriver sitt radioprogram och information om boken.
Här kan ni lyssna till den första låten som Paul McCartney skrev till Peter and Gordon – A World Without Love – utgiven den 28 februari 1964 och som hamnade på förstaplatsen både i England och i USA!
Och har ni lyssnat på låten ovan finns ingen anledning till att inte lyssna på den andra låten duon fick av Paul McCartney – Nobody I Know – utgiven den 29 maj 1964 och nådde 10:e respektive 12:e plats på Englands- respektive USA-listan.
Nu finns det inte något stopp på lyssningarna av låtar som Paul gav till Peter And Gordon. Här lyssnar ni till deras låt – I Don't Want To See You Again – utgiven den 9 september 1964 och som aldrig kom in på Englandslistan men som nådde 16:e-platsen i USA.
Sedan får ni givetvis inte glömma låten som Paul skrev till Peter And Gordon under pseudonym – Woman – utgiven den 11 februari 1966 och som nådde 28:e-platsen i England och 14-platsen i USA.
Men hade inte gruppen några andra hits än de som Paul McCartney skrev? Jodå, här nedan kan du lyssna till ett par av deras andra stora hits från 1960-talet. Vi börjar med I Go To Pieces – utgiven 20 november 1964 som tyvärr inte gick in på Englandslistan, men som tog sig in på 9:e-platsen på USA-listan.
Sedan fortsätter vi med hitlåten True Love Ways – utgiven 23 mars 1965 som blev en större hit med en andraplats på Englandslistan och en 14:e-plats på USA-listan.
En av de större hitsen var To Know You Is To Love You – utgiven 11 juni 1965 och som nådde femteplatsen på Englandlistan och 24:e-platsen i USA.
Vi avslutar med en av låtarna som hamnade högt i USA – en 6:e-plats – Lady Godiva – utgiven 9 september 1966. På Englandslistan nådde den som bäst 16:e-platsen. Här är en liveinspelning på The Milton Berle Show från 1967.