Live: Royal Lido Ballroom, Prestatyn
Denna spelning var The Beatles andra i Wales, efter det att man hade uppträtt på The Regent Dansette, i Rhyl den 14 juli 1962.
Bandet spelade ett set på två timmar med understöd av Jack Ellis and the Autocrats. Innan grabbarna gick upp på scenen hade de fått ett fat med syltsmörgåsar av chefen för stället – Alan Veech.
Biljetterna kostade sex shillings och The Beatles fick £ 30 för denna spelning. Den som var ansvarig för att boka band på detta ställe, var en nära vän till Brian Epstein – Joe Flannery. The Beatles var den första artisten som han bokade.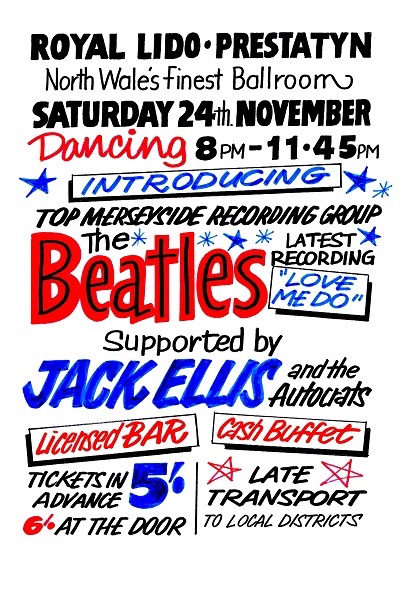 Orten Prestatyn har flera anknytningar till The Beatles. Deras lojale road manager, Neil Aspinall, föddes här och Brian Epstein hade tillfälligt bott här som barn.
Royal Lido Ballroom, som ansågs var norra Wales finaste danslokal, öppnade 1960.
The Beatles bokades väldigt ofta på den här tiden till spelningar i danslokaler (ballrooms). Några månder senare försäkrade sig Brian Epstein om att bokningarna bara gjordes på teatrar.
En udda klausul i The Beatles kontrakt stipulerade att bandet inte fick uppträda inom en radie på 10 miles (cirka 16 kilometer) från danslokalen tio veckor innan själva spelningen. Rätt häpnadsväckande, eller hur?!