Live: The Two Red Shoes Ballroom, Elgin, Skottland
John Lennon kom tillbaka från Liverpool på morgonen för att vara med i The Beatles första framträdande i Elgin på denna korta Skottlandsturné. Första spelningen ägde rum på the Two Red Shoes Ballroom på South College Street, Elgin, Morayshire, denna torsdag.
The Two Red Shoes öppnade den 28 juli 1960 av Albert Bonici – men då som en jazzklubb. Det som var lite speciellt med denna danslokal var att den var L-formad, vilket innebar att en del av publiken inte kunde se The Beatles spelad på scenen!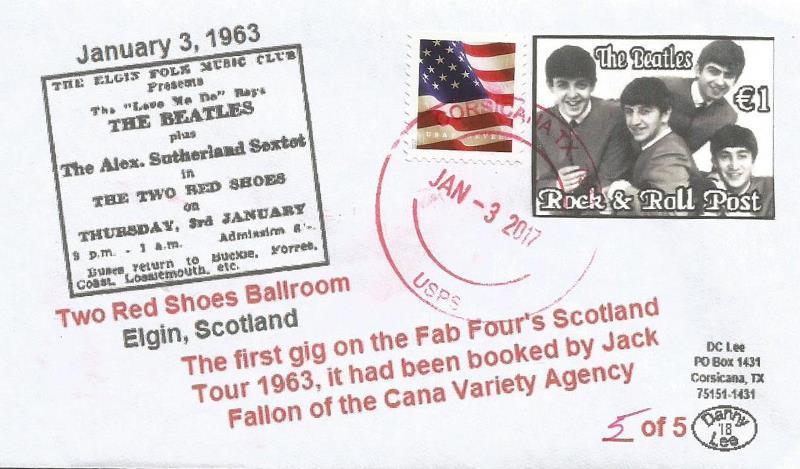 The Beatles skotska turné hade bokats redan i november 1962 av Jack Fallon på the Cana Variety Agency. The Beatles drog in £ 42 per natt under turnén.
Trots den låga kostnaden för att ha The Beatles på scenen, förlorade Fallon till sist på turnén. Men det fanns en klausul i kontraktet som sa att ägaren av stället – Bonici – hade en exklusiv rättighet till kommande framträdanden i Skottland.
I nedanstående artikel kan ni läsa mer om den driftige Albert Bonici (född den 19 juli 1920 – gick bort i sitt hem i Elgin den 8 juli 1990 i en ålder av 69 år), som bland annat blev känd för att att ha bokat The Beatles innan de blev kända. Som känd affärsman fick han också möjlighet att boka The Beatles åtta månader senare där de spelade för utsålda hus både i Glasgow och i Edinburgh precis när Beatlemania hade börjat på allvar.