Nu finns en möjlighet att äga en del av rock'n'rollens historia. Den av både Ringo Starr och George Harrison handskrivna texten till While My Guitar Gently Weeps kommer att säljas på auktionsfirman Moments in Time i USA. Utgångspriset är satt till $195.00, vilket motsvarar drygt 1,8 miljoner svenska kronor.
George Harrison och Ringo Starr skrev varsina rader av texten till låten på baksidan av ett papper som används till att skriva upp inspelningsdata..
Ringo och George skrev ner raderna när de var i EMI:s Abbey Road Studios i London 1968.
George skrev de första raderna på arket (se nedan):
'I Look at You all see the love there that's sleeping — While my guitar gently weeps.
Han fortsatte i slutet av arket med texten:
While my Guitar Gently weeps as I'm sitting here doing nothing but aging still my guitar G W.
Ringo skrev all text som är mellan början och slutet.
Handstilsexperten Frank Caiazzo har autentiserat föremålet och säger bland annat: It is complete with his misspellings, a Ringo trademark, and shows him working out one of the misspelled words on the side.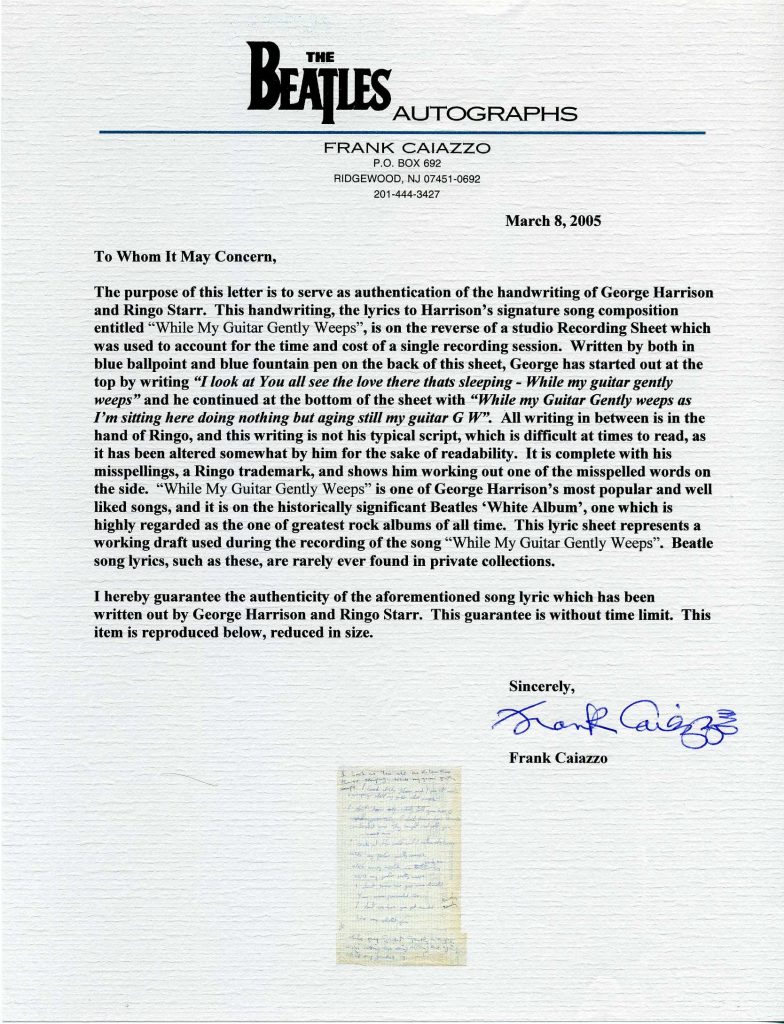 Beatles låttexter i original kommer sällan med på auktioner. Men här är ett av ett par undantag.