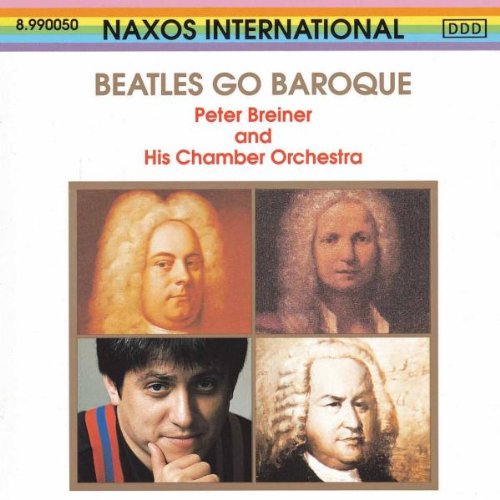 Albumet Beatles Go Baroque av Peter Breiner and His Chamber Orchestra kom ut 1993 på Naxos International – 8.990050 på såväl cd som album i Tyskland.
Här är ett utmärkt sett att blanda favoritbandet The Beatles musik med tämligen lättsmälta klassiska tongångar. Obs! Intresset för barockmusik kan öka om man lyssnar på låtarna nedan! Ta chansen!
Beatles – Concerto Grosso No. 1 – går i Händels musikstil:
She Loves You – A Tempo Giusto/Lady Madonna-Allegro/Fool On The Hill – Adagio/Honey Pie – Allegro/Penny Lane – Allegro.
Beatles Concerto Grosso No. 2 – går i Vivaldis musikstil
A Hard Day's Night/Girl/And I Love Her/Paperback Writer/Help!
Beatles Concerto Grosso No. 3 – i Johann Sebastian Bachs musikstil
The Long And Winding Road – Overture/Eight Days A Week – Rondeau/She's Leaving Home – Sarabande/We Can Work It Out-Bourree/Hey Jude – Polonaise/Yellow Submarine.

Beatles – Concerto Grosso No. 4:
Here Comes The Sun/Michelle/Good Night/Carry That Weight.
Dessa låtar är i vanlig barockstil utan koppling till någon speciell barockare!