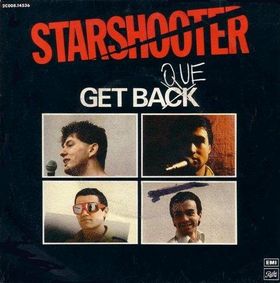 Det franska bandet Starshooter anses ha varit staden Lyons bästa punkband och har spelat in en hård version av The Beatles Get Back – här under den franska titeln Get Baque. Låten är hämtad från gruppens andra Ep släppt 1978 på skivbolaget Pathé med skivnummer Pathé 2C008.14536, 2C 008-14.536.
Punkbandet startade under namnet Les Scooters. The Starshooters upplöstes 1982.
Versionen som du kan lyssna på nedan ansågs vara ett sådan vilt försöka att förstöra The Beatles version, att skivan drogs in bara efter en veckas tid. Men det var 1978 och smaken har nog ändrats något. Som icke-punkare, tycker jag ändå att Starshooters version är en helt OK punkversion.
Och så här ser de ut när de drar på i Get Baque!