Live: Bridge Hotel, Tenbury Wells, Worcestershire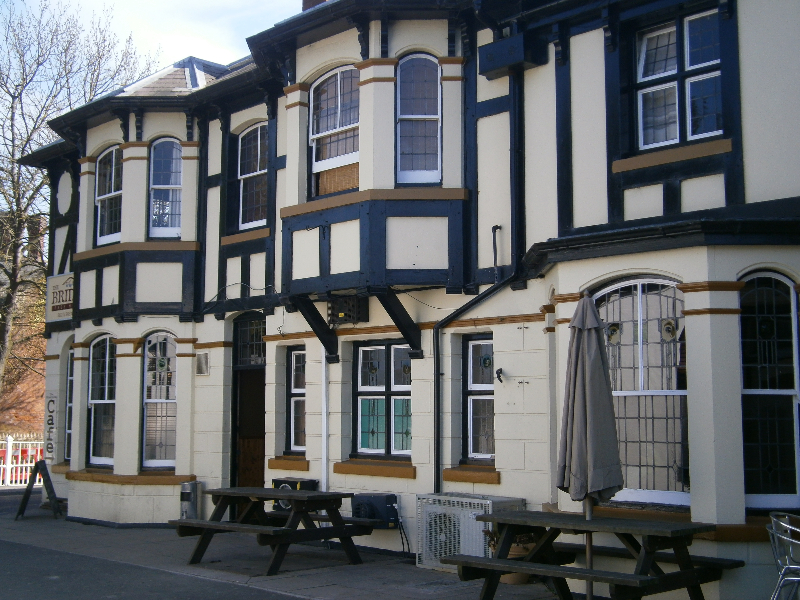 Denna måndag framträdde The Beatles för första och enda gången i den lilla marknadsstaden Tenbury Wells i Worcestershire. Konserten ägde rum i the Riverside Dancing Club i the Bridge Hotel på Teme Street.
En grupp som The Beatles, som nu hade nått en bra bit på väg mot stjärnorna, skulle aldrig spela på ett sådant litet ställe. Men Brian Epstein satte stor ära och heder i att fullfölja sina tidigare bokningar oavsett The Beatles stora framgångar. Beatlarna själva var inte så pigga på att uppträda på små ställen, men att de trots detta gjorde det, gjorde också att de fick en unik närhet till stora delar av sin publik vid denna avgörande tidpunkt.
Förbandet vid denna spelning hette El Riot And The Rebels.
Ett visserligen suddigt men ändå ett foto från sammanträffandet mellan The Beatles och El Riot And The Rebels. El Riot var ett bra band som spelade en hel del runt omkring i landet. Medlemmarna i bandet var Ray Thomas på sång, John Lodge på bas, Bryan Betteridge på sologitarr, Mike Heard på kompgitarr och Ricky Wade på trummor. På bilden ovan syns Paul McCartney längst ner till vänster, snett ovanför honom till höger – Ringo Starr. Stående bakom Ringo ser vi John Lennon och till höger med en barbiedocka i hand (!) ser vi George Harrison.
________________________________
They were hurtling towards number one in the pop charts and starting to generate the kind of hysteria that would make young girls and boys scream like jet planes.
Det var under ovanstående omständigheter som hårfrisörskan Pat Lambert från Tenbury Wells fick sätta sig ner och äta middag med The Beatles på the Bridge Hotel.
Pat: The landlord put a supper on in the dining room, and so it was that I had supper with The Beatles.
Hur det hela började berättar Pat Lambert:
It was the early 60's that my husband and I, together with about ten like-minded people, got together to discuss what we could do to entertain the young people of Tenbury Wells on Saturday evenings.We hit on the idea of forming a dancing club, where we would book acts from the pop charts, and backing groups to support them, which would also give local groups an airing too. That was how the Riverside Dancing Club was born – we decided to use the largest ballroom in the town, which was at the Bridge Hotel.The young people were delighted with the idea, so we had some membership cards printed and there was a small membership fee.
Jean Morton was on children's TV at the time, with two bears called Tingha and Tucker (password Woomerang Boomerang) – on the program she was known as Auntie Jean, and we asked her to come and open the club.
The committee met weekly to discuss the acts to be booked, and two of the members presented them to us, so we booked the acts the members wanted. Joe Brown and the Bruvvers were particularly good, as were Johnny Kid and the Pirates, The Rocking Berries, Screaming Lord Such, Tommy (the gravel voice) Bruce and many more.
In 1962 we were asked by the members to book a group from Liverpool called The Beatles.We had never heard of them, but their agent was duly contacted, and they were booked for the princely sum of £100. By the time they came to Tenbury they were top of the Hit Parade with 'Please, Please Me.'
Agenten hade tagit kontakt med Pat när spelningen närmade sig och undrade om de kunde ställa in spelningen. Föreningen svarade med att det gick inte alls: A contract is a contract.
There was great excitement in our little town, and member's tickets of three shillings and six-pence were soon snapped up.We made arrangements for a buffet supper in the Bridge dining room, for the committee to have the honour of a meal with the famous four.The excitement in the town grew and grew, especially when they turned up in mid-afternoon and went for a stroll down the main street.
I myself had a hairdressing salon in Teme Street and we kept a look out for them. Someone shouted "They've just come out of the café opposite!" and everyone in the salon got up and rushed outside, without a care in the world that their hair was in rollers and perming curlers!
The evening came at last, with almost mass hysteria among the teenagers (and some old people!). We finally got them to ourselves, in the locked dining room with people hammering on the door for their autographs. I got their autographs in my book, which I sold at Christie's pop memorabilia about ten years ago.They are worth even more now, as only Paul and Ringo are still living. Looking back it was great that they did honour our booking, as by the time they came to Tenbury they were worth thousands.
P.S. We were asked to book a young vocalist called Cilla Black but we turned that idea down. What a lorra lorra bad luck!"
The Beatles besök i staden är nu en del av Tenbury Wells historia. På väggen i puben The Vault hänger ett foto med fyra unga ansikten när de besökte Teme Street i staden.
Fotot ser ut att ha tagits utanför en godisaffär visar fyra asvslappnade grabbar som ser ut att vara vid gott mod och på kanten till världsberömmelse (vilket de inte visste just då). Där är de i alla fall skyddande sig mot kylan så gott det går. Men den alltid lika skämtsamme Ringo har ändå passat på att köpa sig en glasstrut.
Någon i puben tittar på fotografiet och minns att John var så fattig att han tiggde cigaretter från förbipasserande.
Men senare samma kväll klev grabbarna upp på en liten scen längst bak i the Bridge Hotel och bildligt talat slet stället i bitar.
Pat än en gång: It was just like the records. It was loud and raucous and all the girls were screaming. They were very good.
Pats make Tony hade en speciell roll denna kväll. Han var konferencier och presenterade The Beatles tillsammans med en kille som hette Ernie Davies. Tony: So I went on stage with The Beatles!
71-årige Jim Tompkins minns vid ett återbesök på platsen för konserten. Hans minne är lika klart idag som det var 1963:
Jim: I was in the bar of the Bridge Hotel talking to George Harrison and he bought me a pint. It was a pint of Wrekin bitter. I can remember we went to look for them earlier in The Crow pub and Jack Knowles, the landlord at the time, said 'I don't want any long-haired scruffy beggars in here!' and sent them to The Oak.
Hårfrisörskan Edwina Bishop, som hade the Femina salon in Tenbury, var en stammis på klubben och en av de få lyckliga som fick se många av de stora stjärnorna när de uppträdde ipå scenen till den lilla men i övrigt perfekta klubben.
Edwina: They had only just started to get known here and after that they became known around the world. The room was packed and the atmosphere was great – but it always was at the Riverside Dancing Club. There was a queue formed outside by 7pm and bus loads of people came from Ludlow and Clee Hill. The music was very loud, but at that age any noise was good.
---
Pat Lambert: I took my autograph book along and I asked them all to sign it, which they did, and I sold it about ten years ago at Christie's for £1,700. But if I had kept it longer it would have been worth more now. They are worth even more now, as only Paul and Ringo are still living.
Suddigt foto med The Beatles på scenen i Bridge Hotel i Tenbury Wells.
---
Mark Lewisohn, beatleshistorikern var tillsammans med sin fru Anita Epstein på besök i staden 2003 och fann till sin glädje att the Bridge Hotel fortfarande såg ut som det gjorde 40 år tidigare. Han fick möjlighet att träffa Alec Cook, som var dörrvakt när The Beatles spelade. Han kom dock inte ihåg någonting från hur det var. Hans fru Jean kom i alla fall ihåg att det var hon som hade bokat The Beatles några månader tidigare för £100.
______________________________________
Här har vi ett medlemskort för medlemskap i Riverside Dancing Club 1963 signerat av alla fyra medlemmarna i The Beatles.
Detta är ett unikt dokument eftersom det är så tidigt i gruppens karriär, när de fortfarande spelade på mindre ställen. Nedan följer en beskrivning av föremålet, som gick på auktion för 4 700 dollar.
This fold-over membership card, for the season of 1962-63 was issued by the Riverside Dancing Club of Tenbury Wells and features the handwritten name of the former club member on the interior (Mrs. B. Yarrington Mayfield Tenbury Wells). The Beatles played at the Riverside Dance Club annual live band night on April 15, 1963 (for the sum of 100 pounds). They obviously impressed Mrs. Yarrington that evening, for she deemed it appropriate to get their autographs on the interior of her membership card. Starr and Lennon have signed in blue ink, while McCartney and Harrison have scripted their names in black ink. McCartney has added the notation Bass below his name, while Lennon has added Vocal next to his signature. The role in the band identification by Lennon and McCartney is of very special note. We have never seen this on any other early Beatles signed item, and the fact that it reflects their self-defined roles which changed over time is very interesting and significant. Two other signatures (illegible) appear on the front and back of the card and most likely represent two other performers from that night. All of the signatures grade 9/10 with the exception of Harrison (7). The Beatles were on the cusp of super stardom in 1963. Their single She Loves You was released that year and became the biggest hit in U.K. history. It was not until the following year that their star rose to unprecedented heights, when they made their memorable 1964 tour of the United States. The membership card (6 x 4.5 inches, unfolded) displays light soiling and a few light creases. In Very Good to Excellent condition. LOA from James Spence/JSA. Reserve $1,000. Estimate $2,500/$5,000. SOLD FOR $4,700.00