The Beatles och Brian Epstein på semester i Spanien
Söndagen den 28 april inleddes beatlarnas semester på tolv dagar. Paul McCartney, George Harrison och Ringo Starr flög till Puerto de la Cruz på Teneriffa, Kanarieöarna, Spanien via Barcelona. De bodde hos sina tyska vänner Klaus Voormann och Astrid Kirchherr.
Astrid Kirchherr:
Us in Tenerife again. Paul's got a piece of car stuck on his nose as he had the worst sunburn. So did Ringo. There was this beautiful blonde Spanish girl who worked in a shop there and George fancied her so much. He went down on his knees and said ' Please go out with me! I'm one of The Beatles and we've got a hit record!' She just stared at him and asked, 'A Beetles? What is this Beetles? What is he doing?'. I've always wondered if she regretted that.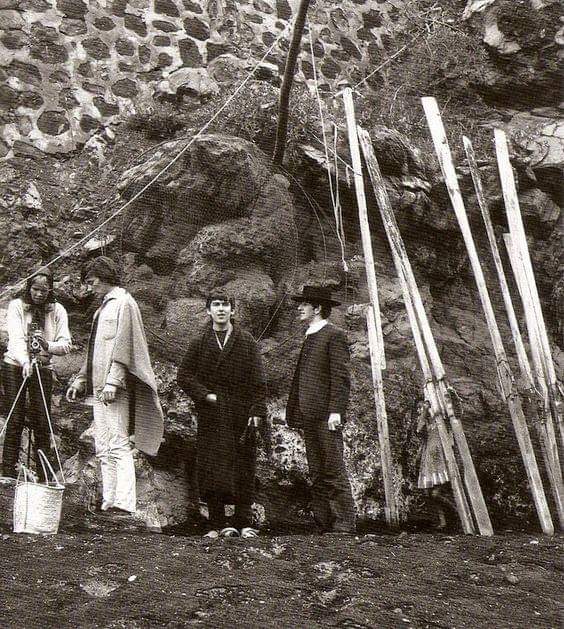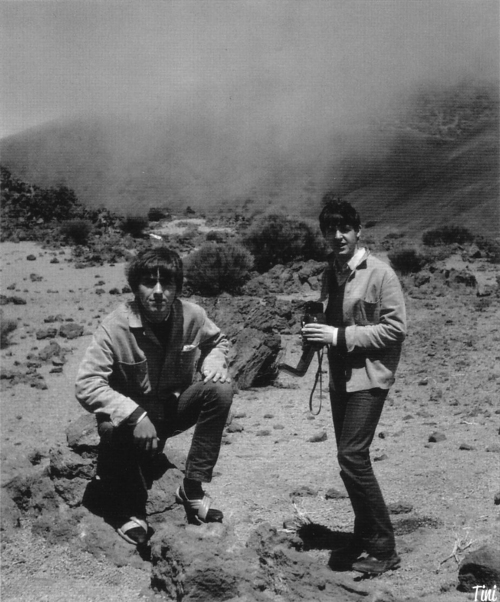 _____________________________________
Samtidigt hade John Lennon tackat ja till Brian Epsteins erbjudande om att följa med honom till Torremolinos också via Barcelona.
Detta var bara tre veckor efter det att Cynthia Lennon hade fött sonen Julian.
John Lennon från David Sheffs bok All We Are Saying: I was on holiday with Brian Epstein in Spain, where the rumours went around that he and I were having a love affair. Well, it was almost a love affair, but not quite. It was never consummated. But it was a pretty intense relationship.
It was my first experience with a homosexual that I was conscious was homosexual. He had admitted it to me. We had this holiday together because Cyn was pregnant, and I went to Spain and there were lots of funny stories. We used to sit in a cafe in Torremolinos looking at all the boys and I'd say, 'Do you like that one, do you like this one?' I was rather enjoying the experience, thinking like a writer all the time: I am experiencing this, you know. And while he was out on the tiles one night, or lying asleep with a hangover one afternoon, I remember playing him the song Bad To Me. That was a commissioned song, done for Billy J Kramer, who was another of Brian's singers.John Lennon.
John Lennon enligt Jann S Wenners bok Lennon Remembers:
The question of whether any sexual contact happened between Lennon and Epstein has been the subject of considerable speculation in the years since.Cyn was having a baby and the holiday was planned, but I wasn't going to break the holiday for a baby and that's what a bastard I was. And I just went on holiday. I watched Brian picking up the boys. I like playing a bit faggy, all that. It was enjoyable, but there were big rumours in Liverpool, it was terrible. Very embarrassing.John Lennon.

Paul McCartney har senare menat på att John Lennon gick med på att semestra tillsammans med Brian Epstein för att tillförsäkra sig auktoriteten i The Beatles.
Paul berättar i The Anthology:
Brian Epstein was going on holiday to Spain at the same time and he invited John along. John was a smart cookie. Brian was gay, and John saw his opportunity to impress upon Mr Epstein who was the boss of the group. I think that's why he went on holiday with Brian. And good luck to him, too – he was that kind of guy; he wanted Brian to know whom he should listen to. That was the relationship. John was very much the leader in that way, although it was never actually said.

Trots att vare sig John Lennon eller Brian Epstein berättade något om vad som hände på deras gemensamma semester, avslöjade tydligen John inför sin tidigare skolkamrat Pete Shotton en del av vad det var som hände.
Shotton citerade en hel del och med karaktäristisk öppenhet vad John hade berättat för honom. Detta står att läsa i Shottons memoarbok från 1983 – John Lennon: In My Life, som han skrev tillsammans med Nicholas Schaffner.
Detta är kanske det mesta som har publicerats om vad som var John Lennons sanna natur under hans och Brians möten i Spanien.
I visited John at Aunt Mimi's a few days after his return to England. And when he started in about how much he had enjoyed Spain, I could hardly resist taking the piss out of him. "So you had a good time with Brian, then?" I smirked. Nudge nudge, wink wink.

I was somewhat taken aback when John didn't so much as crack a smile. "Oh, fuckin' hell," he groaned. "Not you as well, Pete!"

"What do you mean, not me as well?"

"They're all fucking going on about it."

It's OK, John. Don't take it so serious. I'm just joking, for Christ's sake."

"Actually Pete," he said softly, "Something did happen with him one night."

Now that wiped the grin right off my face. Had I even dreamed there might be any truth whatsoever to the rumors, I would never have made light of the subject in the first place. Still – as John surely knew – I would have stood by him, and let the rest of the world handle the business of passing moral judgement, even if he had just told me he'd committed murder. And John would surely have done the same for me.
Which, after all, is what true friendship is all about.

"What happened," John explained, "is that Eppy just kept on and on at me. Until one night I finally just pulled me trousers down and said to him: 'Oh, for Christ's sake, Brian, just stick it up me fucking arse then.'
"And he said to me, 'Actually, John, I don't do that kind of thing. That's not what I like to do.' "'Well,' I said, 'what is it you like to do, then?'
"And he said, 'I'd really just like to touch you, John.' "And so I let him toss me off." And that was that. End of story.

"That's all, John" I said. "Well, so what? What's the big fucking deal, then?"
"Yeah, so fucking what! The poor bastard. He's having a fucking hard enough time anyway." This was in reference to the "butch" dockers who, on several recent occasions, had rewarded Brian's advances by beating him to a bloody pulp.

"So what harm did it do, then, Pete, for fuck's sake?" John asked rhetorically.

"No harm at all. The poor fucking bastard, he can't help the way he is.
John Lennons och Brian Epsteins gemensamma spanska semester dramatiserades i en film 1991 The Hours And Times med David Angus och Ian Hart som Epstein respektive Lennon.
Här är den officiella trailern till filmen The Hours And Times
The Beatles återkom till England den 9 maj och deras första engagemang var den 11 maj 1963.