I dagarna har det utgivits en dansk bok med titeln Apostlenes Langhårede berømmelse – med undertiteln Dengang John Lennon og Yoko Ono kom til Thy – og det der fulgte. Boken är skriven av Kaj Sekkelund och ges ut på bokförlaget Forlag1.dk. Boken är häftad, utgiven 2020 och innehåller 166 sidor. ISBN/EAN/ 9788792841827.
Boken berättar om John Lennon och Yoko Onos vistelse i Thy och Han Herred i Danmark 1970. Boken har också referenser till rockmusiken, ungdomsupproret, hippie-eran, festivalerna, demonstrationerna m.m. Och därför kan boken också läsas som ett dokument från uppbrottstiden, enligt förlaget. Boken tar också fasta på John Lennons betydelse som musiker och konstnär samt som politisk fanbärare för freden med slagorden Peace And Love.
Bilden nedan:
Yoko Ono, John Lennon, Kyoko, Tony Cox och Melinde Kendall sitter i soffan och möter massmedia – tidningar, radio och TV. Platsen är World University i Skyum Bergen, Danmark. Bakom soffan står Aage Rosendal, chefen för New Experimental College, som var det officiella namnet på det inte så vanliga universitetet, som i fortsättning på den danska traditionen för högre utbildning arbetade för interpersonell förståelse och de humanistiska värderingarna.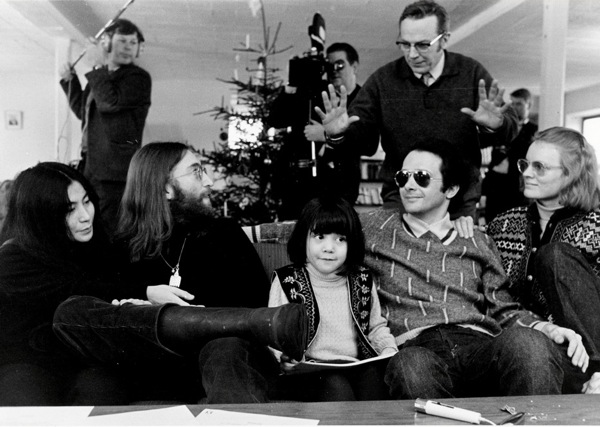 Självklart dök det upp journalister när John och Yoko besökte Danmark.
John Lennon och Yoko Ono tillbringade faktiskt nästan en månad i området. Orsaken till Danmarksbesöket var att Yoko ville träffa sin då 6-åriga dotter Kyoko, som bodde tillsammans med sin far, filmregissören Anthony Cox, som bodde i Thy i samband med etableringen av en filmskola i Kettrup. Cox hade hyrt egendomen på Ellidsbølvej 37, av advokat Gunnar Bergholt, som hade den till salu.
Efter att ha tillbringat natten på Hotel d'Angleterre i Köpenhamn och i Comwell Hvide Hus i Aalborg, flyttade John och Yoko till de mer anspråkslösa omgivningarna i Thy den 29 december 1969. Här tillbringade paret omkring en månad i det snötäckta landskapet på Nordjylland, under det att frågorna om föräldrarätten till Kyoko klarades ut. Under vistelsen lät paret också lockarna falla och återvände väldigt korthåriga till England efter vistelsen i Danmark.
Författaren Kaj Sekkelund bor i dag på grannegendomen Sekkelund, som på den tiden ägdes av hans farföräldrar Jens och Marie. De hade telefon, något som egendomen som John och Yoko bodde i inte hade. Så det kom titt som tätt över när de behövde ringa. I boken påstår författaren att även George Harrison och Pattie skulle ha besökt John och Yoko under tiden de var i Danmark, något som man kan ifrågasätta med tanke på Georges hektiska tidplan för att göra de sista inspelningarna till albumet Let It Be och inspelningar med Appleartisterna Doris Troy och Billy Preston.
Nedan är en del av en ovanlig intervju gjord i Thy, danmark den 6 januari 1970 talar John om fred och kommersiellt meddelande. John Lennon och Yoko Ono bodde i Thy i ungefär en månad på en enslig farm under julen 1969 fram till omkring den 20 januari 1970.

Intervjun i videon ovan återges nedan i text:
JOHN: All right, you rumormongers, let's get going!
QUESTION: We've heard a lot of rumors about you.
JOHN: So have I.

QUESTION: Can we get some truth about your visit here in Denmark?
JOHN: Well, I've just heard a new one in the Daily Express that I've bought seventy acres of land here. Every paper seems to think I'm going to buy seventy acres of land. I've been to Greece recently and they thought I was going to buy land there and Canada, whatever. I've got no other land except some in England and Ireland. We came to see Kyoko. And Tony and Melinda, of course, but Kyoko was the access point and we've had seven nice days of peace.

QUESTION: What kind of man are you really?
JOHN: I'm a nervous guy, you know.

QUESTION: Do you and Yoko believe in peace in our time?
JOHN: Yeah. The thing is we have this poster that says War Is Over If You Want It. We all sit around pointing fingers at Nixon and the leaders of the countries saying, "He gave us peace" or "They gave us war." But it's our responsibility what happens around the world in every other country as well as our own. It's our responsibility for Vietnam and Biafra and the Israel war and all the other wars we don't quite hear about. It's all our responsibility and when we all want peace we'll get it. I support humanity, I don't belong to any left wing, right wing, middle wing, Black Panthers, white Christians, Protestants, Catholics, or nothing People have said we're naive for trying to sell peace like a bar of soap. But I want to ask you, is Mr. Ford naive? Or is the soap powder factory naive? They're selling the same old soap that's been around for two thousand years, but suddenly it's new blue soap. So we're selling new blue peace and we hope some of you buy it. The war is here now and there's two ways of looking at it. Some people say, "Why did you spend your money on posters or peace campaigns? Why didn't you give it to the Biafran children, or something like that?" And we say, "We're trying to prevent cancer, not cure it."
QUESTION: Did you spend all your money?
JOHN: No. The people around us made more money than the Beatles ever did, I'll tell you that. None of the Beatles are millionaires. But there's a lot of millionaires who became millionaires around the Beatles, however. You know the story.

QUESTION: Where are you going from here?
JOHN: I don't know. We play everything by ear. We try not to make plans. I don't really like knowing what I'm going to do for the next eight months and we'll just stay until it's time to go back and work.

QUESTION: Are you feeling comfortable out here?
JOHN: Oh, it's beautiful. All the snow. We go walking in the garden and all that. It's beautiful, all the colors in the sky and the mist. It's just a fantastic place with good vibes, as they say in this generation. Very good vibes around and just the people we've met. We've met very few, but they're straight. They're not as paranoid as in the big cities or other countries. People are less paranoid in Denmark.