Live: Royalty Theatre, Chester
Den här onsdagen blev det enda besöket för The Beatles The Royalty Theatre på City Road i Chester. De spelade sju låtar: Some Other Guy, Thank You Girl, Do You Want To Know A Secret, Please Please Me, You Really got A Hold On Me, I Saw Her Standing There och From Me To You.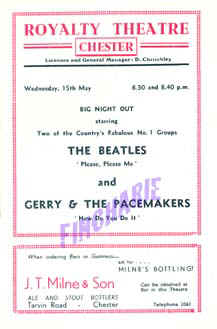 Framförandet av Some Other Guy och You Really Got A Hold On Me är noterbart eftersom låtarna hade varit del av The Beatles repertoar sedan lång tid tillbaka, men var låtar som de ännu inte hade spelat in. De var framför allt inte med på deras debutalbum Please Please Me.
You Really Got A Hold On Me spelades in och kom med på albumet With The Beatles som kom ut 22 november 1963. Some Other Guy hade bara spelats in i samband med radioinspelningar. Det är frestande att tänka sig om grabbarna hade tankar på att spela in en studioversion av låten vid den här tiden.
The Beatles bodde på The Blossoms Hotel på Love Street denna kväll.
Programmet ovan är ett av de mera ovanliga program med The Beatles eftersom detta var dels ett litet ställe, dels för det faktum att de bara spelade här en enda gång.