Det har kommit till vår kännedom att fotografen och konstnären Astrid Kirchherr har avlidit i Hamburg efter en kort tids sjukdom den 12 maj 2020, bara några få dagar innan hon skulle ha fyllt 82 år.
Astrid föddes den 20 maj 1938 i Hamburg, Tyskland. Hon är vida känd över för sina fotografier och inte minst för sitt samröre med The Beatles och Klaus Voorman och Jürgen Vollmer.
Hon var den som tog de första bilderna på The Beatles när de var i Hamburg 1960. Kirchherr jobbade som fotografassistent och var den del av den lokala scenen 1960. Hennes dåvarande pojkvän Klaus Voormann slank en dag in på klubben Kaiserkeller där han blev helt begeistrad i den unga engelska rockgruppen. Gruppen hade precis börjat kalla sig för The Beatles. Som Astrid minns efteråt, var det Klaus som dag efter dag insisterade på att hon måste komma till klubben för att se detta fantastiska band. Till slut gick hon med på det och det blev ett beslut som förändrade hennes liv radikalt.

Där mötte hon Stuart Sutcliffe, som var en av medlemmarna i The Beatles vid den här tiden. Så efter ett tag så förlovade sig Astrid och Stuart innan han så tragiskt och onödigt gick bort den 10 april 1962.
Ringo Starr twittrade: God bless Astrid a beautiful human being. And she took great photos: Peace and love.
George Harrisons änka Olivia Harrison har twittrat om att Kirchherr var so thoughtful and kind and talented, with an eye to capture the soul. Astrid is and was the sweetest woman, so thoughtful and kind and talented, with an eye to capture a soul. Our family loved her and none more than George. I am truly saddened but honoured to have known her.

Pete Best twittrade: Absolutely stunned to hear the news of Astrid passing. God bless you love. We shared some wonderful memories and the most amazing fun times. Condolences to family and friends.
Beatleshistorikern Mark Lewisohn var den som offentliggjorde Astrid Kirchherrs bortgång: Danke schön, Astrid Kirchherr. Intelligent, inspirational, innovative, daring, artistic, awake, aware, beautiful, smart, loving and uplifting friend to many. Her gift to the Beatles was immeasurable. She died in Hamburg on Wednesday, a few days before turning 82. RIP.

Kirchherr har också sagts vara den som har skapat Beatlesfrisyren, trots att hon själv har förnekat detta. All that rubbish people said, that I created their hairstyle, that's rubbish! Lots of German boys had that hairstyle. Stuart [Sutcliffe] had it for a long while and the others copied it. I suppose the most important thing I contributed to them was friendship.
1995 berättade Astrid för BBC Radio Merseyside: All my friends in art school used to run around with this sort of what you call Beatles haircut. And my boyfriend then, Klaus Voormann, had this hairstyle, and Stuart liked it very very much. He was the first one who really got the nerve to get the Brylcreem out of his hair and asking me to cut his hair for him. Pete [Best] has really curly hair and it wouldn't work.
Kirchherr har sagt, efter det att hon hade klippt Sutcliffes hår, frågade George Harrison om hon kunde göra samma sak med hans hår när hon var på besök i Liverpool. Lennon och McCartney klipptes i samma still när de var i Paris av Astrids vän Vollmer, som bodde där vid den här tiden och arbetade som assisterande fotograf åt William Klein.
Trots att Kirchherr tog väldigt få bilder efter 1967, har hennes tidigare verk ställts ut på många ställen i världen; Hamburg, Bremen, London, Liverpool, New York City, Washington D.C., Tokyo, Wien och i Rock 'n' Roll Hall of Fame.
Hon har publicerat ett antal fotoböcker i begränsad upplaga.
---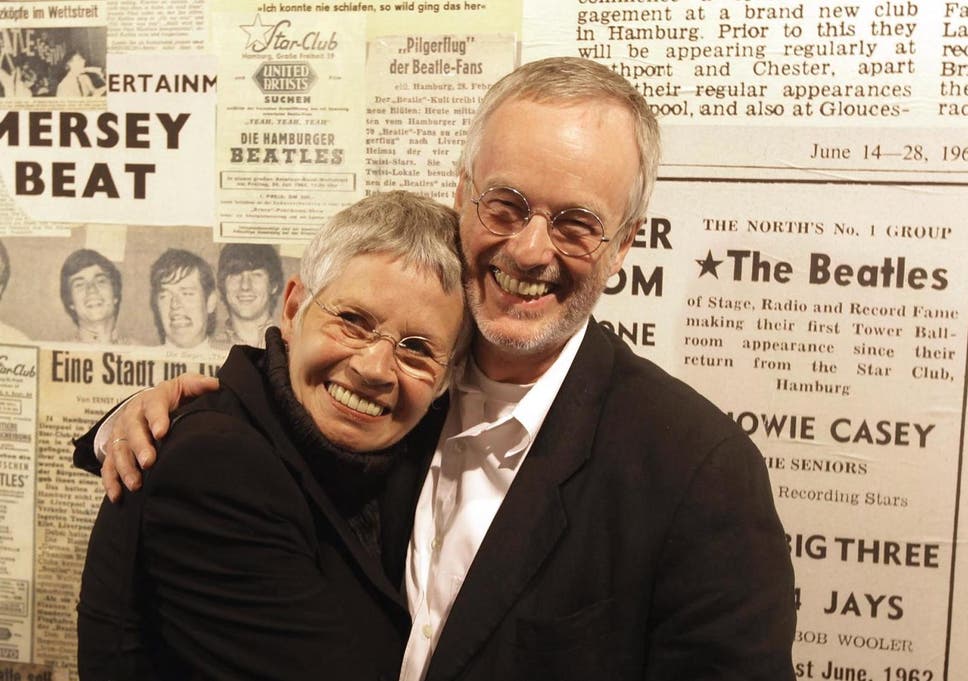 Här ser vi flera av bilderna som har tagits på Astrid Kirchherr tillsammans med beatlarna under filminspelningen av A Hard Day's Night 1964.