Live: Odeon Cinema, Romford, Essex
The Havana Cinema öppnade den 29 januari 1936 med två filmer med Conrad Veidt i filmen The Passing of the Third Floor" och Kay Francis i filmen Stranded.
Biografen såldes vidare till Eastern Cinemas Ltd. i april 1937. Oscar Deutschs biografkejda med Odeon teatrar tog över från och med februari 1943. Den 28 november 1949 bytte man namn till Odeon Cinema. Det blev en biograf med tre salonger den 24 mars 1974. The Odeon stängde den 8 juli 1990 till fördel för en nytt Odeon med åtta biografer.
Denna söndag var det dags för den sjätte och sista konserten under rubriken Mersey Beat Showcase, ett format som Brian Epstein hade hittat på själv som bestod av en show med flera av Brians egna artister. Den första konserten i serien ägde rum den 7 mars 1963.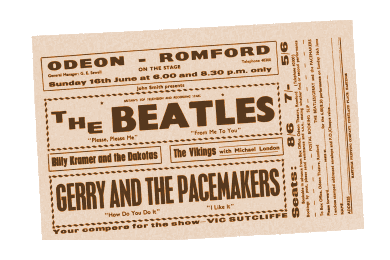 Showen ägde rum på Odeon Cinema på South Street i Romford och bland uppvärmningsbanden fanns Billy J Kramer and the Dakotas, The Vikings with Michael London och Gerry and the Pacemakers. Presentatör var Vic Sutcliffe.
Uppställningen med artister var rena drömmen för popentusiasterna med The Beatles, Billy J Kramer and the Dakotas och Gerry and the Pacemakers som hade lagt beslag på singellistans tre första platser denna vecka!
Olikt de tidigare Mersey Beat Showcase-föreställningarna, var det John Smith som var promotor för kvällens begivenheter. De fem tidigare showerna var promotade av NEMS Enterprises. Tilläggas kan att fem ytterligare speldatum i denna serie var planerade till den 17-20 och den 23 juni 1963, men Brian Epstein gjorde aldrig verklighet av dessa evenemang.
The Beatles spelade följande sex låtar: Love Me Do, Misery, A Taste Of Honey, Do You Want To Know A Secret, I Saw Her Standing There och Please Please Me.
Romford hade flera Beatlesanknytningar. Ringos styvmorsföräldrar James och Louisa Graves bodde i närheten och The Beatles besökte deras hus när de kom i närheten av Romford.
Tidigare tidningsfotografen för tidningen Romford Recorder John Hercock,var bara 15 år när det här ägde rum. Han tog fotografier av publiken på uppdrag av en fotofirma.
Val Taylor var tillsammans med sin kompis Pip Smith både när The Beatles besökte Romford första gången, men inte minst den andra gången den 16 juni 1963.
Så här berättar Val:
The next time The Beatles came to Romford was a totally different matter. I queued outside Odeon from 5.30 am for tickets and a photo of us was featured in the Recorder I believe. I was wearing a black and white check "jockeys cap" (cringe!) We had front row seats and I remember Ringo nodding and smiling at us, which of course, sent us into fits of screaming!
In those days, there were numerous tours featuring all the pop groups performing at the same gig. I think we saw just about everyone who was popular in the 60s ranging from The Stones, Johnny Kid & The Pirates, The Hollies, Gerry & The Pacemakers, The Searchers, Billy J Kramer & The Dakotas and of course, The Beatles.
Pip and I both still live in Romford and meet up regularly. We clearly remember that afternoon after school when we met the Beatles and I think we both secretly were annoyed we were in our school uniforms!
John Hercock berättar: It wasn't just the girls who were screaming," he said, "it was the boys too! "The atmosphere was mad; it was a full house, people had been queued around the block to get in. I don't think anyone could quite believe the Beatles were in Romford; you only saw bands like that on Top of the Pops.
I likhet med förra gången de var i Romford hälsade beatlarna på Ringos släktingar efter spelningarna.
Ett år efter konserten uttalade sig John en enda gång till en tidning:
I think they are a wonderful bunch of boys, not at all big-headed about their success.
Ett fan som var med på konserten minns:
I saw the Beatles with a school friend at this Romford concert when I was 15. The crowds were huge. I met a girl of similar age who said she had been backstage to meet the Beatles before and if I stuck with her she would get me in as well. Unfortunately, it proved impossible to stay close to her because of the surging crowds. She was gorgeous in the sixties way: long blonde hair, lots of eye make-up and pale lips, wearing knee-length white socks, so I could imagine that she was probably allowed backstage. I was pressed up against the Beatles car at one stage and noticed how pale they all looked, and neat in their suits.
Inside the theatre you could not hear a note because of all the screaming; the noise was incredible and high-pitched. My friend and I were in the front circle so had pretty good seats. I remember screaming but thinking that I'd prefer to hear the music. A wonderful experience and unbelievably exciting at the time, and the Beatles looked as though they enjoyed it too".