Live: Great Pop Prom, Royal Albert Hall, London
Denna söndag var det The Beatles som toppade listan över band som spelade i eftermiddagsshowen the Great Pop Prom i Londons Royal Albert Hall.
Biljett till 'Great Pop Prom i Royal Albert Hall den 15 september 1963.
The prom var ett årligt evenemang som började redan 1958 för att samla lin pengar till the Printers' Pension Corporation och som sponsrades av tonårstidningarna Valentine, Marilyn och Roxy.
Paul McCartney, John Lennon och George Harrison i Royal Albert Hall den 15 september 1963.
Tidningen The Daily Mirror skrev om konserten:
It was the siege of the Beatle-crushers … 6,000 screaming teenagers intent on crushing just four Beatles. Never has the Royal Albert Hall seen scenes quite like it. Even for Britain's newly-elected top vocal group, the Beatles, it was bewildering… They were the target for anything the teenagers could lay their hands on. Girls swept out of their seats and tried to rush the stage. They were repelled by a solid block of forty commissionaires. After their final hit number, Twist and Shout, the four Beatles fled from the stage and out of the Hall into a waiting cab.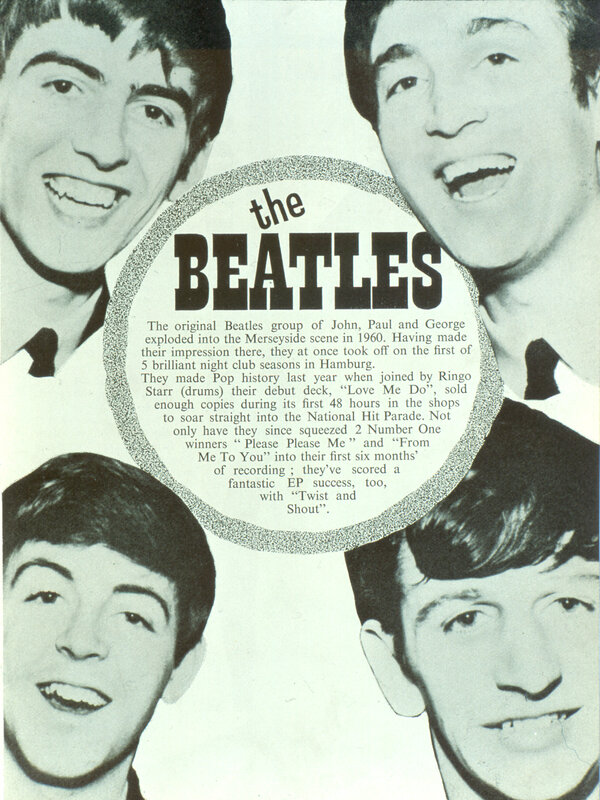 The Beatles deltog också i en fotosession bakom the Royal Albert Hall tillsammans med The Rolling Stones. Detta var det första av totalt fyra tillfällen där The Beatles och The Rolling Stones uppträdde vid samma konsert.
Bill Wyman i The Rolling Stones minns: We opened the show, and The Beatles watched us. They told us years later that they were very nervous with the reception we got.
The Rolling Stones inledde showen följd av The Viscounts, Kenny Lynch, Susan Maughan, Shane Fenton (AKA Alvin Stardust) & The Fentones, Clinton Ford, The Vernon Girls, The Lorne Gibson Trio, Arthur Greenslade & The G-Men, Helen Shapero, & Karl Denver. The Beatles avslutade showen.
Paul McCartney minns: Standing up on those steps behind the Albert Hall in our new gear, the smart trousers, the rolled collar. Up there with the Rolling Stones we were thinking, 'This is it – London! The Albert Hall! We felt like gods!'
Tom Wolfe lär ha sagt följande 1965 om vad som skiljer The Beatles från the Rolling Stones: The Beatles want to hold your hand, but The Stones want to burn your town.
Dagen efter, den 16 september var det – äntligen! dags för The Betles att ta lite semester. John Lennon med sin fru Cynthia reste till Paris, där de mötte upp med Brian Epstein. George Harrison och hans bror Peter besökte deras syster Louise i USA, som hade immigrerat till Benton, Illinois 1954. Paul och Ringo begav sig till Grekland.