En mycket ung Stella McCartney tillsammans med pappa Paul och mamma Linda.
Stella McCartney har tillsammans med Sean Ellis gjort en film kallad Black Park, som visar Stellas kläder för män, I filmen agerar Cillian Murphy, känd från filmen Anthropoid, också den regisserad av Sean Ellis.
Stella har känt Sean Ellis ett bra tag, men det var först i november 2016 som det hände något. Då visade Stella upp sin herrkollektion på Abbey Road och med sig hade hon Cillian Murphy. Bara två veckor senare var de igång och filmade i ett skogsparti norr om London.
Filmen Black Park, som blev resultatet av deras möte, är en kortfilm som visar de viktigare delarna av  Stellas herrkollektion som avser hösten/vintern 2017. Filmen har lite drag av David Lynch Twin Peaks över sig. Skådespelaren Murphy förefaller fångad mellan två världar, den ena i form av discotekvärlden och den andra i form av ett litet hus i skogen. Det är oroligt och mystiskt.
Och den inte alltid helt behagliga känslan man kan få när man tittar på filmer av typen Twin Peaks, gäller inte bara filmen utan även filmmusiken. Och den är skriven av Paul McCartney!
Det är dock inte första gången som far och dotter arbetar tillsammans. Paul gjorde också musiken som spelades i samband med att Stella tog sin modeexamen.
I det här sammanhanget chansade Stella genom att slå en signal till Paul och hoppas på att han var mitt emellan två jobb, så att han kunde ta sig tid att skriva lite ny musik efter det att Stella och Ellis försökt att få ihop bild och ljud på ett spännande sätt. Filmningen var inga problem, men musiken . . .
Stella berättar att hon fattade sig kort och sa till Paul: I want weird shit, which you can do, Mr Sgt. Pepper. Från början fanns det ett par olika så kallade dummies, en för snabb och ytterligare tre andra varianter. När man lyssnar på den version som kom med i filmen kan det vara bra att känna till (och det gör ju vi Beatlesfans) att Paul McCartney aldrig har varit främmande för andra musikgenrer än popmusik. Som bekant finns ju kompositören Karlheinz Stockhausen med på skivkonvolutet till Sgt. Pepper-albumet – bara som ett exempel.
Stella McCartneys Resort Collection för 2018.
Och Stella har verkligen låtit sig påverkas och inspireras av Beatlarnas kläder. I sin nya kollektion har hon med en speciell typ av slag på jackan, av samma typ som Paul har haft på en av sina jackor.
När det kommer till skor och motsvarande säger Stella: For the boots, I went to Olivia Harrison's house and found five pairs of shoes in a box.
Stella har aldrig haft tillgång till vare sig Johns eller Ringos kläder, men det som hon har tagit intryck av är deras storlekar på kläderna. De är helt annorlunda det som hon har sett tidigare. Man får väl komma ihåg att grabbarna växte upp på s.k. krigsransoner då näringsriktig mat var en lyxvara. Allt var i små storlekar och inte ens Stella kommer i sin fars skor!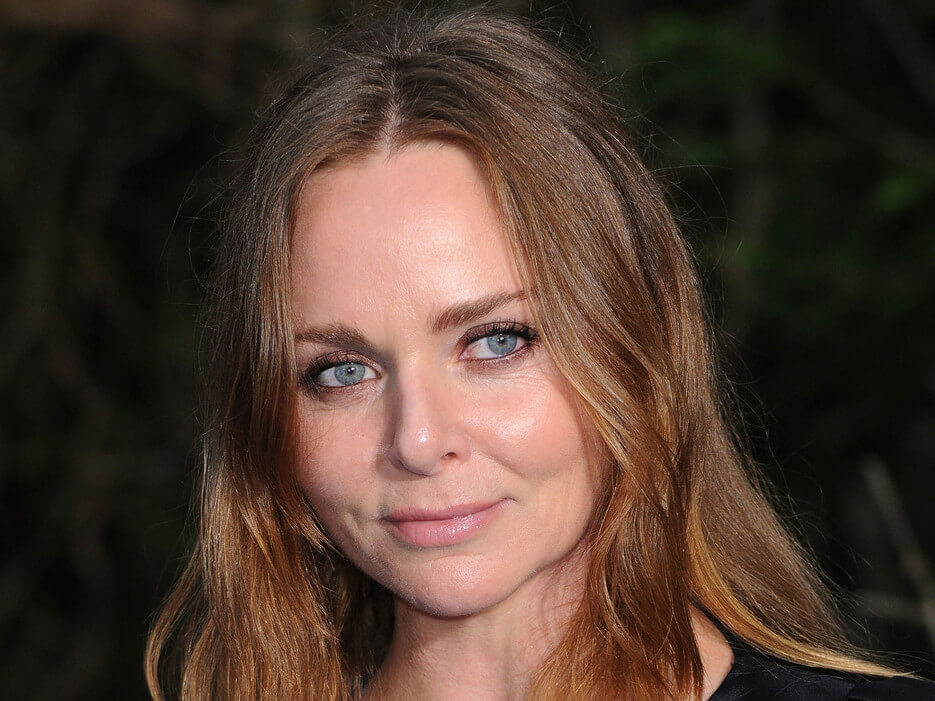 Stella McCartney i egen hög person.
Nå, hur ser modet ut och hur låter Paul senaste nya komposition?
Se och hör genom att klicka på filmen nedan!