NASA (National Aeronautics and Space Administration) bedriver många olika uppdrag. Ett av de senaste uppdragen som det nu arbetas med har fått namnet Lucy och är det första uppdraget som handlar om att sända en satellit till Jupiters Trojaner. Och? Jo, NASA meddelade den 1 juli att uppdragsnamnet Lucy har de tagit efter namnet som urtidsmänniskan som hittades 1974 i Etiopien i Afrika fick. Namnet hämtade arkeologerna från just The Beatles låt Lucy In The Sky With Diamonds. NASA har därmed också blivit inspirerade av The Beatles låt från albumet Sgt. Pepper's Lonely Hearts Club Band – passande nog i samband med att låten och hela Sgt. Pepperalbumet fyller 50 år i år.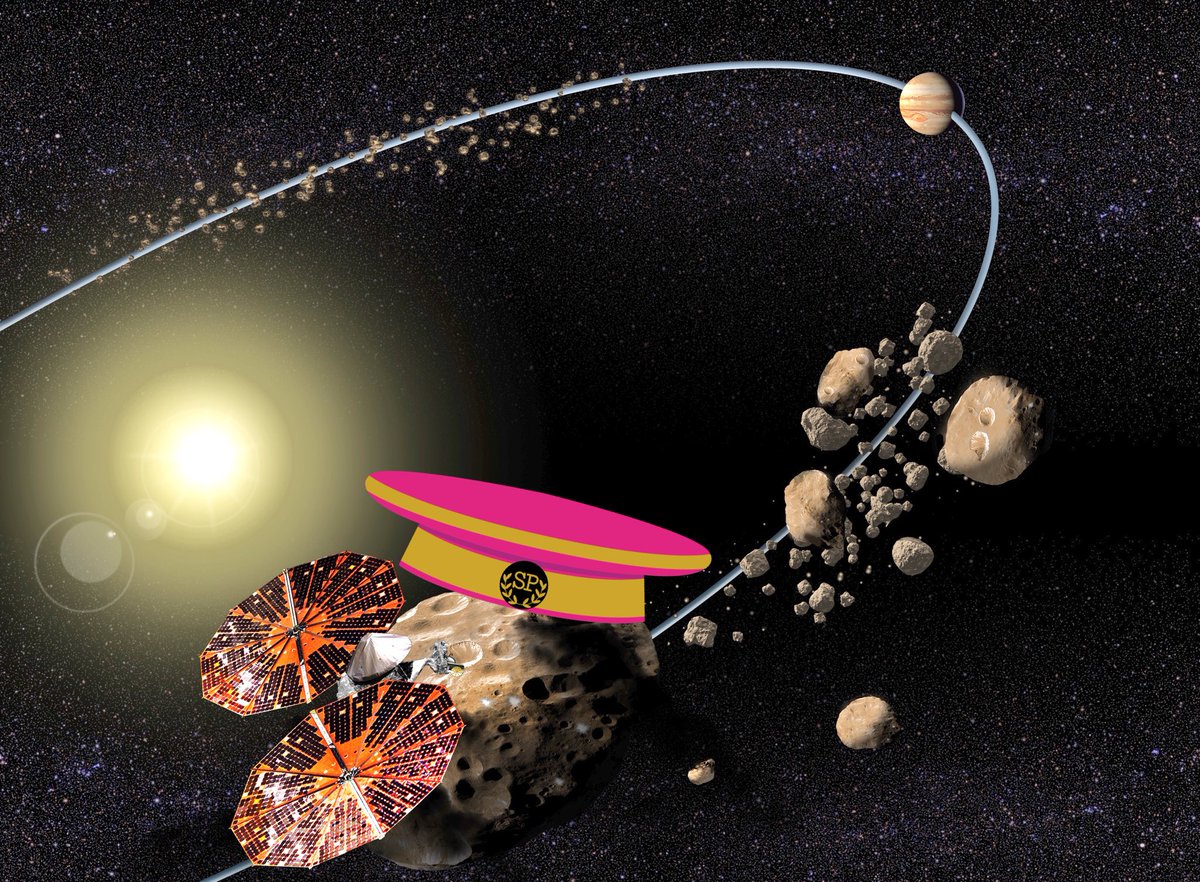 Lucy: The First Mission to Jupiter's Trojans
Lucy kommer att flyga över sex av Jupiters Trojaner.
Nedan ses en animation av de innersta planeternas rörelser i förhållande till varandra samt hur Trojanerna svärmar under Lucys uppdrag. De inre planeterna är Merkurius (brun färg), Venus (vit färg), Jorden (blå färg), Mars (röd färg) och Jupiter (orange färg). Trojanernas svärmar utgörs av de gröna området i animationen.
Uppskjutningen av Lucy sker först i oktober 2021 och kommer att få sin kraft bl.a. från jordens gravitation. Resan kommer att ta 12 år och sju olika astroider – en Main Belt-astroid och sex Trojaner, varav de två sista ingår i det som man kallar för "two-for-the-price-of-one" binära systemet.
Här nedan samma animation utan rörelser. Den gröna linjen är den som farkosten Lucy förväntas ta under sin 12 år långa färd.
_____________________________________________________________________
Det är emellertid inte första gången som NASA kopplas ihop med Beatles låtskatt. Den 4 februari 2008 passade NASA på att fylla 50 år och det var också då 40 år sedan The Beatles spelade in låten Across The Universe. Denna dag skickade NASA ut låten direkt ut i rymden via sitt speciella rymdnätverk. Ljudstrålen riktades mot Nordstjärnan Polaris, vilken befinner sig 431 ljusår bortom jorden. Låten färdas genom rymden med en hastighet av 299 274 km per sekund!
I samband med att detta tillkännagavs uttryckte Sir Paul McCartney sig så här till NASA: Amazing! Well done, NASA! Send my love to the aliens. All the best, Paul.
John Lennons änka Yoko Ono sa: I see that this is the beginning of the new age in which we will communicate with billions of planets across the universe.
---
I november 2005 framförde Paul McCartney låten Good Day Sunshine under en konsert som sändes ut via den Internationella Rymdstationen by NASA. NASA har också använt sig av låtarna  Here Comes The Sun, Ticket To Ride, A Hard Day's Night som väckarklocksmusik för astronauterna uti rymden.