Radiosändning – 'Saturday Club'
Denna lördag mellan kl. 10.00 och kl. 12.00 sände BBC Light Programme programmet:Saturday Club med The Beatles. Programet spelades in den 21 maj 1963.
Live: City Hall, Sheffield, Yorkshire
Det sjunde stoppet på The Beatles turné med Roy Orbison under maj-juni 1963 blev The City Hall, Barker's Pool i Sheffield, England. Detta blev det tredje av fyra besök av The Beatles på The City Hall i Sheffield.
Brian Clay minns konserten:
When I booked tickets for the Beatles/Roy Orbison tour in early 1963, I really wanted to see the Big O, who was then the headliner over the Merseyside upstarts. By the time they reached Sheffield, the Fab Four were top of the bill, although I remained to be convinced that they deserved it. I remember the great Roy Orbison, alone on the stage, dressed all in black, winning over the audience, but nothing prepared me for the uproar when the Beatles appeared. I spent most of the set watching the people around me in disbelief. I wrote in my diary "like a Roman orgy with screaming twisting girls" . . . but I was convinced: they were magic.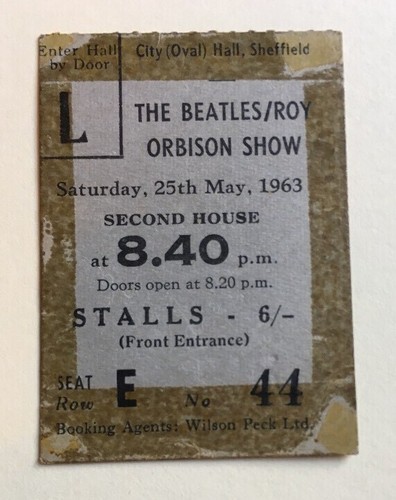 _________________________

I musiktidningen New Musical Express från den 31 maj 1963, uttalar sig Roy Orbison och säger The Beatles could be tops in America'. Så rätt han fick!