UK EP release: The Beatles' Hits
Så var det fredagsdags, vilket ofta hänger ihop med att skivor släpps denna dag i veckan. Just denna fredag släpper The Beatles sin andra Ep-skiva i UK – The Beatles' Hits', som innehåller tre tidigare a-sidor från singlar och en b-sida från en singel.
A-sidan på Ep.n innehåller From Me To You med dess b-sida Thank You Girl och B-sidan på Ep:n innehåller Please Please Me och Love Me Do.
Ep:n gick in på listan den 21 september 1963 och tillbringade tre veckor på listans förstaplats från den 2 november. Totalt låg den på Ep-listan i hela 43 veckor! Den låg även på singellistan i 18 veckor med 14:e plats som bäst.
Inspelningen av Love Me Do på Ep:n var den som också är med på albumet Please PLease Me, d.v.s. med Any White på trummor. Samtliga spår på EP:n är skrivna av Lennon-McCartney och Ep:n har skivnummer GEP 8880.
Omslagsbilden på framsidan är ett fotografi taget av Angus McBean och texten på omslagets baksida är skriven av Tony Barrow. Se hans text nedan.
The four numbers on this EP have been selected from The Lennon & McCartney Songbook. If that description sounds a trifle pompous perhaps I may suggest you preserve this sleeve for ten years, exhume it from your collection somewhere around the middle of 1973 and write me a very nasty letter if the pop people of the 70's aren't talking with respect about at least two of these titles as "early examples of modern beat standards taken from The Lennon & McCartney Songbook".
The success of The Beatles as a bill-topping, chart-topping team of vocalist/instrumentalist entertainers hasn't been far short of unique. What makes this foursome's history quite unprecedented is the fact that two of the boys write (with an output rate which is prolific-plus!) all the songs which The Beatles take to the top of the hit parade. We've had successful songwriters before and we've had golden-touch recording stars before but the two entirely different facts of Tin Pan Alley fame have never before combined themselves so brilliantly in the all-round, do-it-yourself versatility of a single singing/playing/composing unit.
Chronologically speaking, this exciting little session starts with Love Me Do. In the autumn of '62 this number went out to the disc stores on the top deck of The Beatles' first Parlophone single. 48 hours later it had notched up sufficient sales to put it into the charts.
Next came Please Please Me which stayed in the charts throughout February and March of 1963, reached the coveted Number One slot, earned The Beatles their first Silver Disc award and eventually gave its name to a twelve-inch LP programme which was destined to become one of the fastest-selling album releases of the year.
For their third single The Beatles coupled From Me To You with Thank You Girl. The former zoomed to the pop peak in the middle of April and defended its mighty position against all comers for a total of seven spectacular weeks. (Incidentally it was Do YOu Want To Know A Secret, another item from The Lennon & McCartney Songbook, which replaced From Me To You at the Number One position in June!)
Thank You Girl found another way of proving its undoubted popularity by making a prolonged appearance amongst the nation's list of best-selling sheet music.
P.S. In case you still doubt my opening paragraph prophesy, you should know that Messrs. Lennon & McCartney have written enough songs to keep them in singles and albums from now until 1973 even if their composing talent were to wither and die in the immediate future!Tony Barrow
____________________________________
Live: Odeon Cinema, Luton, Bedfordshire
Detta blev The Beatles enda konsert på Odeon Cinema som låg på Dunstable Road nr. 127, Bury Park i Luton, även om de uppträdde vid två ytterligare tillfällen i staden.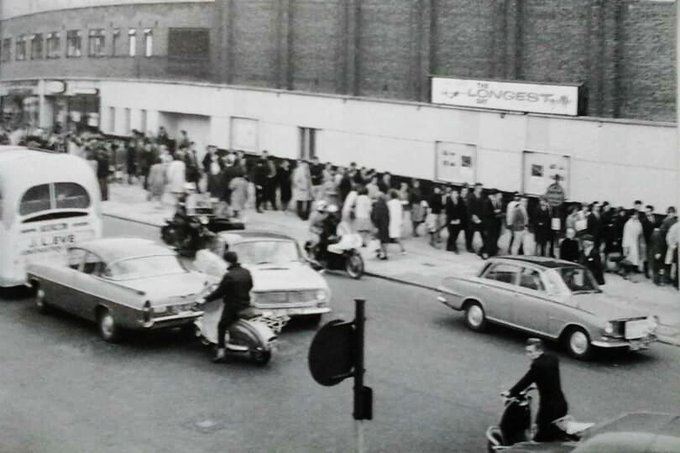 Nedan en liten film från dagens Odeon i Luton som berättar om när The Beatles spelade där denna dag 1963.
Showen denna kväll i Luton var den tredje av fyra konsertkvällar som sponsrats av Joe Smith. Liksom vid de två tidigare konsertkvällarna fick gruppen £250 per konsert.
Med lite färg ser de ut så här: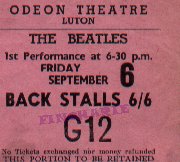 Nu börjar det bli allvar. Redo att inta scenen, grabbar!
Odeon Cinema öppnade den 12 oktober 1938 och kunde ta 1 332 sittande på parkett och ytterligare 626 personer på läktarna. 1983 gjordes stället om till bingohall och år 2001 gjordes de om en gång till – denna gång till en kyrka!
Tidigare hade The Beatles uppträtt på the Majestic Ballroom den 17 april 1963 och kom att ge två konserter på the Ritz Cinema den 4 november 1964.
_____________________________
Samma dag skrev Brian Epstein ett brev till manusförfattaren Alun Owen (1925-1994) med en förfrågan om denne kunde tänka sig att skriva ett manus till en film med The Beatles. Resultatet blev filmen A Hard Day's Night.