Ännu en vecka som börjar med en måndag! Således är det dags för del 2 i vår miniserie om personer som har påverkat The Beatles historia, men som inte alltid är så välbekanta. Turen har nu kommit till en kille som var 17 år sommaren 1957 vid namn
Charlie Roberts – ynglingen som tog de första fotografierna på The Quarrymen
En varm solig sommardag den 22 juni 1957 hade The Quarrymen gått med på att spela på ett party på Rosebery Street i Liverpool. Det var ett party som Charlie Roberts mamma Majorie hade organiserat för att fira att Liverpool för 750 år sedan (år 1207!) hade fått stadsprivilegier*).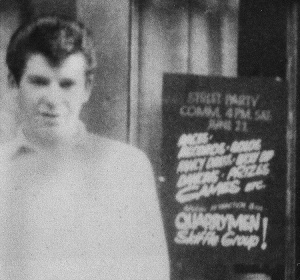 Charles berättar om postern på bilden ovan:
I created the poster for the event myself. It was a one-off and is long lost. I was a trainee poster writer/silk screen printer in my teens – happy days. I went the Liverpool Junior Art School and for the last 26 years of my working life I taught printing at the senior Art College, where John attended in his youth. Here's what the poster says:
The Quarrymen – som de flesta av oss känner till – är en brittisk skiffle- och rockgrupp som spelar än idag! Gruppen bildades av John Lennon tillsammans med några av hans skolkamrater från Quarry Bank High School i Liverpool 1956. Utifrån denna grupp uppstod The Beatles 1960.
Från ovanstående nämnda party den 22 juni 1957 lär det tyvärr bara finnas tre fotografier kvar från The Quarrymens framträdande. Charlie berättar själv om att det vara nära att det inte hade blivit några foton alls.
Charlie: I was by no means a photographer and borrowed the camera of a neighbour. I'd never taken a photo in my life! A few days after the party my wife took the rolls of film to be developed at Norman's Chemist round the corner. There was a full roll of photos of The Quarrymen but this was somehow lost in the chemists! Luckily I managed to find the three photos I have from another roll. I imagine if found they'll be worth a lot of money!
Robert berättar vidare om fotona som han tog denna dag:
Although I took more photos of the Quarrymen at the Rosebery Street party, only three have survived the decades, and only one true original survives, now brown with age. I don't know what happened to the other two.
I took a lot of photos that day, but all but five were lost many years ago when I took the negatives to a chemist to be developed. I have no idea what happened and they've never turned up, so I don't really suspect foul play.
Of the remaining 5 photos, two more were lost when a local Beatles exhibition to whom I had leant my photos allowed the exhibition to be shipped to Dallas USA, including many other loan items, all without the owners' permission. Local musician Mike Byrne (som skapade The Beatles Story-museet i Albert Dock) went to Dallas to manage the exhibition only to find that no inventory had been made, so he was unsure what should have been there. Later when his salary had not been paid and the exhibition was being dismantled by an inexperienced group, Mike collected some small items for safe keeping and returned home with them. I was fortunate that I got 3 of 5 back, as others lost their loan items. Fortunately, I had had all three re-photographed in a professional studio at the Art College years ago.
What you should remember is that when these photos were taken they were just about a group of mates performing live and didn't seem at all significant at that time. Hence I never took the care with them that I should have. Who could have known what historic value they would achieve in later years as the earliest photos of John and the Quarrymen playing live?
___________________________________________
Gruppen spelade uppställda på en kolvagn komplett med en mikrofon, vars kablar hade lagts genom fönstret hos en av Charlies grannar på Rosebery Street nr 76. De spelade två set och under det andra sättet drog den höga musiken till sig ungdomar från traktens övriga gator, inklusive ett lokalt gäng som inte uppskattade att John Lennon flirtade med deras flickvänner.
Charlie berättar varför det egentligen inte förhöll sig på det sättet:
John was short sighted so he was probably just squinting (skelade med ögonen), which these lads thought he was winking at their girlfriends! They didn't like this and to escape any trouble, after finishing their set they ran into my mum's house.
Under tiden som grabbarna gömde sig i Charlies föräldrahem, tog man ner utrustningen från kolvagnen och bar in den i Charlies lägenhet. Till slut kom en poliskonstapel och såg till att The Quarrymen kunde eskorteras till busshållplatsen för vidare färd hemåt.
Charlie kände John när han bodde i Liverpool och gruppen av vänner brukade regelbundet dricka något på The Rose of Mosely i Mosley Hill innan de gick till St Barnabas' Church, där bandet brukade repetera eller framträda. De tillbringade även tid tillsammans på the Old Dutch Café på Smithdown Road, vilket kom att bli ett hem utanför hemmet och ett ställe där man tog en kaffe eller en korvrulle efter det att pubarna hade stängt kl. 22.00.
Trots att Charlie och John pratade om massor av olika saker, främst musik, pratade John aldrig om sin mammas tragiska död 1958 eller att han hade flyttat in med sin moster Mimi.
Så här beskriver Charlie Roberts denna speciella dag: We had perfect weather for our street party and everyone had a great afternoon, with all the usual fun and games. Then the Quarrymen arrived and the crowd were in awe, most having never seen the like before. A primitive mic was connected up from number 76 and placed on the flat-backed wagon. The Quarrymen performed the first session in the afternoon which was fine, but the loud evening session attracted crowds from the other streets including a local gang who did not like Lennon flirting with their girlfriends. When trouble looked likely, the lads jumped off the flat back wagon and ran into my mums house at 84 Rosebery Street, where they all had tea. Meanwhile, the wagon, tea chest and all was driven around the block and the gear was then brought into the back of my mum's house.
The gang were still hanging around waiting for the Quarrymen to appear and the police were called. The lads were escorted to the bus stop at the top of Rosebery Street, where they caught a number 73 bus to get home.
Liverpool Council awarded us another party on the following Saturday for having the best decorated street. Understandably, the Quarrymen were not too keen on another appearance and we had the Merseysippi Jazz Band instead. A week or so later John was to meet Paul at St. Peters church Hall in Woolton.
_____________________________________________
Charlie visste att The Quarrymen var bra, men hade ingen aning om den världssuccé som The Beatles kom att spela i framtiden.
Charlie: They were very good so I knew they'd be big in Liverpool. It was amazing to see them become famous worldwide, and the fact they did it in such a short period of time was remarkable.
Charlie tappade kontakten med The Beatles 1962/63 men ångrar att han inte tog kontakt med John Lennon igen.
Charlie minns:
It was only after John died that it was said he longed for local mates from years gone by to get in touch with him. I would have done, but I didn't want people thinking I was 'cashing in' on the fact I knew John and we used to knock about together. I think if he were alive today, I'd definitely try and get in touch and send him an email.
Charlie Roberts föddes i oktober 1939 och är still going strong tillsammans med sin fru Sandria i en ålder av 82 år. De bor alldeles i närheten av Strawberry Field, Mendips och St. Peter's Church.
*) De första statuterna gällande staden Liverpool daterar sig ända tillbaka till år 1207, när King John utfärdade ett så kallat patentbrev som gjorde det officiellt att staden Liverpool nu hade blivit en ny stadsdel i landet. Men på den här tiden hade Liverpool inte fått sitt nuvarande namn, utan då hette stadsdelen 'Livpul'.
_______________________________
Måndagen den 3 januari presenterades Alistair Taylor i den första delen av denna minimiserie.
Måndagen den 17 januari presenterar vi del tre i vår miniserie – musikförläggaren m.m. Dick James.