Paul McCartney spelar 'She's A Woman' live första gången sedan 2004
Paul McCartneys Got Back-turné i Australien inleddes igår, onsdagen den 18 oktober 2023, på Adelaide Entertainment Centre i staden Adelaide i södra Australien.
En mycket exalterad publik såg på Paul McCartneys första konsert i Adelaide under Got Back-turnén i Australien under oktober/november 2023. 
Paul McCartney bjöd på en liten raritet i och med att han bland alla sina egna och The Beatles låtar, framförde She's A Woman, en  låt han senast spelade live på musikfestivalen i Glastonbury 2004. Som soloartist har han dessförinnan framfört låten 21 gånger. Tillsammans med John Lennon, Ringo Starr och George Harrison framförde gruppen låten 123 gånger.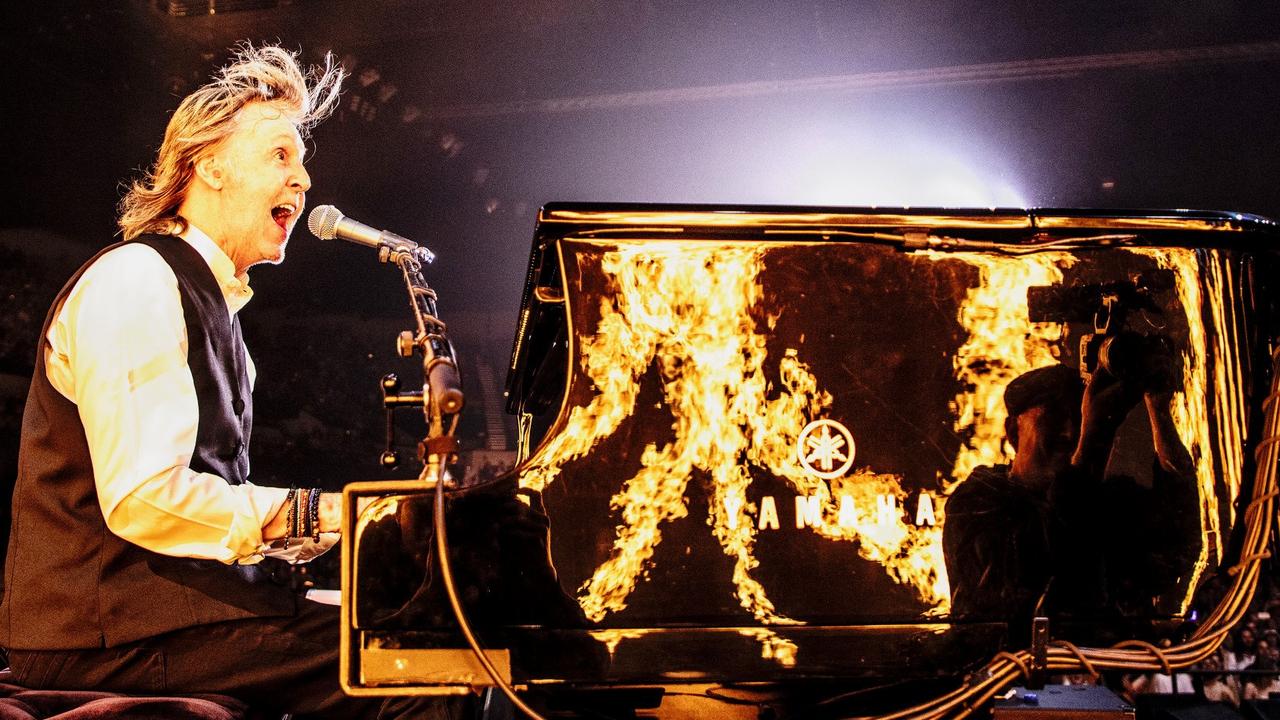 Paul McCartney vid flygeln under framförandet av 'Live And Let Die' i Adelaide.
Kopiera och klistra in nedanstående länk i din webbläsare så får du ett smakprov från konserten i Adelaide av Live And Let Die med Paul McCartney och hans band.
https://www.instagram.com/p/CyioGr9Jgvw/?utm_source=ig_embed&utm_campaign=embed_video_watch_again
Paul McCartney spelar She's A Woman i Adelaide den 18 oktober 2023.
She's A Woman var, tro det eller inte, en lite överflödig låt, som placerades på B-sidan av hitsingeln I Feel Fine 1964. Låten finns inte med på något officiellt studioalbum. She's A Woman spelades in under Beatles For Sale-sessionerna den 8 oktober 1964.
Emellertid höll ju Capitol i USA på och omarrangerade innehållet på de engelska albumen med The Beatles för sin egen marknad. Så låten finns med på USA-albumet Beatles '65.
Det första albumet, där låten finns med, utanför USA, var faktiskt Australien och deras skivsläpp av albumet The Beatles Greatest Hits Volume 2. Vid den här tidpunkten ville EMI i Australien någonting som kunde fylla tomrummet mellan albumet Revolver från augusti 1966 och Sgt. Pepper's Lonely Hearts Club Band i juni 1967 och satte då ihop albumet Greatest Hits Volume 2 enbart för den australienska publiken. Albumet släpptes den 16 februari 1967. Detta album innehöll den enda stereoversionen i original från 1965 av She's A Woman. Det gällde fram till att The Beatles Box släpptes 1980. På USA-albumet Beatles '65 fanns en alternativ stereoversion med pålagt reverb.
Eller varför inte lyssna på låten Jet?!
Paul McCartney setlist, 18 October 2023, Adelaide
Can't Buy Me Love (from The Beatles, A Hard Day's Night, 1964)
Junior's Farm (single, 1974)
Letting Go (from Venus and Mars, 1975)
She's a Woman (The Beatles I Feel Fine b-side, 1964)
Got to Get You Into My Life (from The Beatles, Revolver, 1966)
Come On to Me (from Egypt Station, 2018)
Let Me Roll It (from Band On the Run, 1973)
Getting Better (from The Beatles, Sgt Peppers Lonely Hearts Club Band, 1967)
Let 'Em In (from Wings At The Speed of Sound, 1976)
My Valentine (from Kisses On The Bottom, 2012)
Nineteen Hundred and Eighty-Five (from Band On the Run, 1973)
Maybe I'm Amazed (from McCartney, 1970)
I've Just Seen a Face (from The Beatles, Help, 1965)
In Spite of All The Danger(recorded as The Quarrymen, 1968, first released on The Beatles, Anthology 1, 1995)
Love Me Do (from The Beatles, Please Please Me, 1963)
Dance Tonight (from Memory Almost Full, 2007)
Blackbird (from The Beatles, The Beatles, 1968)
Here Today (from Tug of War, 1982)
New (from New, 2013)
Lady Madonna (single, 1968)
Fuh You (from Egypt Station, 2018)
Jet (from Band On the Run, 1973)
Being For The Benefit of Mr Kite (from The Beatles, Sgt Peppers Lonely Hearts Club Band, 1967)
Something (from Abbey Road, 1969)
Ob-La-Do, Ob-La-Da (from The Beatles, The Beatles, 1968)
You Never Give Me Your Money (from Abbey Road, 1969)
She Came In Through The Bathroom Window (from Abbey Road, 1969)
Band On The Run (from Band On the Run, 1973)
Get Back (from Let It Be, 1970)
Let It Be (from Let It Be, 1970)
Live and Let Die (from James Bond's Live and Let Die soundtrack, 1973)
Hey Jude (The Beatles single, 1968)
Extranummer:
I've Got A Feeling (from Let It Be, 1970) (with John Lennon virtual from the Peter Jackson Get Back documentary)
Birthday (from The Beatles, The Beatles, 1968)
Sgt Peppers Lonely Hearts Club Band (from The Beatles, Sgt Peppers Lonely Hearts Club Band, 1967)
Helter Skelter (from The Beatles, The Beatles, 1968)
Golden Slumbers (from Abbey Road, 1969)
Carry That Weight (from Abbey Road, 1969)
The End (from Abbey Road, 1969)
Paul McCartneys 'Got Back'-tour i Australien:
Wednesday 18 October (genomförd)
Adelaide Entertainment Centre | Adelaide, South Australia
Saturday 21 October
Marvel Stadium, Melbourne, Victoria
Tuesday 24 October
McDonald Jones Stadium | Newcastle, New South Wales
Friday 27 October
Allianz Stadium | Sydney, New South Wales
Saturday 28 October
Allianz Stadium | Sydney, New South Wales
Wednesday 1 November
Suncorp Stadium | Brisbane, Queensland
Saturday 4 November
Heritage Bank Stadium | Gold Coast, Queensland